Honor 8X
Briefly
As a final words, we can consider Honor 8X as a successful device. Although coming with a midrange processor and looking to its price, Honor Play becomes its biggest opponent. However 8X is a really successful price / performance device on the market. In this way, if you are looking for a device under $500, you can humbly choose Honor 8X as a new device.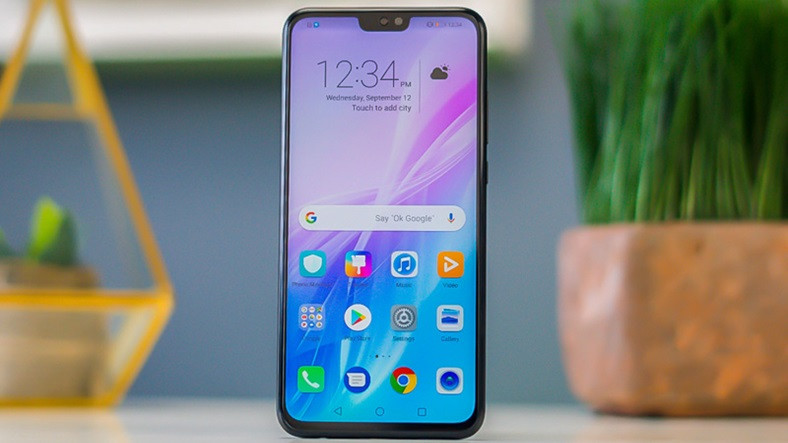 Who should Buy Honor 8X?
Users who have a budget under $500 and can not afford more may buy brand new Honor 8X which is a great option. With its great design aspects and practical usage, users will be pleased of this device.
We have reviewed Honor 8X which becomes a role model for other brands with its affordable price

Huawei continues to launching successful devices to the market with a different options range at the same time also introducing newest devices with its Sub-Brand Honor to the market. This Chinese brand introduced a brand new device to the market not a long time ago called Honor Play which is an exclusive device for gamers. By the way they introduced a new device to worldwide market a month ago which is called Honor 8X. As we all know Smart phone prices has raised up a lot nowadays, however Honor continues its legacy with cheap and affordable prices by introducing new mid-range devices. Also they get attraction of users by its unique design aspects, indeed we can say that they are achieving this policy these days.
Honor 8X was introduced at November 6. You can buy a brand new Honor 8X for $329.00 on the market. On the other hand, price of Honor Play is $379.00 on the market. So what are the features of new Honor 8X. Let's begin our review.
What do you need to expect from Honor 8X's design?
Design of Honor 8X resembles like a premium flagships however if you compare them of their prices, Honor 8X is 4 times cheaper than common Flagship smart phones. This topic is actually important, because you don't have to pay a lot of money just for design features of a phone.
Looking of its design we can say that Honor 8X adopted minimalistic design aspects and it has four color options; black, blue, red and pink. Honor 8X comes with beautiful rear glass case which made from Aurora glass and it reflects different color with different light angles. It looks very beautiful with its looped edges and extremely thinned screen frames also it uses metallic frames on the sides of device.
Honor 8X comes with a notch which we accustomed to seeing on many smart devices these days and you can easily get rid of this notch by changing it from settings. Even if you are using with a notch or not, Honor 8X has got one of the largest screen ratio.
What about the screen aspects of Honor 8X?

Honor 8X has got 6.5 in screen. In this way it has 1080×2340 pixel resolution and uses IPS LCD panel under it. We can humbly say that it has really good color contrast and pleased our expectation at both indoors and outdoors. Of course there are different kind of display modes such as Eye Comfort and Color Saturation Setting etc. On the other hand Honor 8X becomes the first model on the earth which uses TUV certificated eye protection mode. We want to tell this as a little detail.
Screen of Honor 8X has 397 ppi pixel density level and it offers 19.5:9 aspect ratio. On the other hand the screen uses Gorilla Glass 3 as a protective layer.
If we look around of the Honor 8X, wesee a fast working finger print scanner and dual cameras on the edge. Having a 7.8 mm thickness, Honor 8X has power and volume buttons on the right of the device. We see a speaker, 3.5 mm headphone jack and microUSB port underneath of the phone. However it would be better using a USB-C port instead of microUSB, to be honest. Additionally it has mono speakers though it has very good voice quality and performance.
Honor 8X's SIM and microSD card drawers located on the left of device. It has Dual-SIM support and enables users to use 3 different cards at same time which is a pretty detail for us.
As a final words, Honor 8X is not a waterproof device unfortunately. Let's go on talking about hardwire and performance of Honor 8X in our review.
Honor 8X's hardwires and performance details
Honor 8X comes with Android 8.1 operation system. However, it has EMUI interface as well which we see on other Huawei smart phones. It comes with EMUI 8.2 interface in it and it's powered with Kirin 710 processor which has 8 cores in it. Kirin 710 is really successful processor however this processor doesn't set Honor 8X as a leader on its class. Honor 8X's sister Honor Play which has nearly same price on the market has Kirin 970 processor in the case and becomes more attractive. There are lots of differences between these two processors and these differences makes Honor Play more powerful device than its sister.
Let's compare the result scores of Honor 8X with its opponents. We have scored 5552 points on Geekbench with multicore performance test. Looking to these results we can say Honor 8X has an upper hand compared to Moto G6 Plus which is powered with Snapdragon 630 processor and scored 4168 points on Geekbench test.
On the other hand, Honor 8X is ahead of Samsung Galaxy J8 and Galaxy A6+ which use Snapdragon 450 processer. However this smart phone is behind of Honor 10 and Honor Play models which are currently using Kirin 970 processor. As you know they have scored 6600 points on Geekbench test.
However you can really please with Honor 8X at the end of the day. It satisfies users with game experience humbly. However it is not the best option for harsh mobile games.
Honor 8X comes with 4 GB of RAM and 64 GB of Storage Capacity. However you can increase the storage capacity up to 400 GB with an additional microSD card. Also it is important to note that Honor 8X comes with a 3750 mAh battery in the case.
Battery Performance of Honor 8X
So what about the battery of Honor8X? Does it satisfy users appropriately? In our opinion, Honor 8X will please the owners with its battery performance. In order to test this battery, we conduct a scenario which includes listening music for a couple hours, surfing on the internet, watching YouTube videos about 30 minutes and according to this scenario Honor 8X lasted to 11 P.M. Of course there are other things included with this scenario such as checking e-mails, checking Social Media accounts and of course little bit of gaming.
In our legendary 90 minutes HD video recording test, Honor 8X lost its 13% of its energy with full brightness rate. With these results Honor 8X located a good place on our list.
Camera Performance of Honor 8X
Let's talk about the cameras of Honor 8X. Comparing to other expensive Honor and Huawei models, Honor 8X's cameras are little bit behind of them as you expected. However, it is necessary to say that it has very rich features in camera interface.
Honor 8X's 20 MP resolute main camera has f/1.8 diaphragm level, 27 mm wide angle and phase detection auto focus technology. Next to this camera there is a second camera located which works as a depth sensor and it has 2 MP resolution. It is possible to capture photos with Depth of Field however don't you expect similar results like iPhone XS or Huawei P20 Pro.
AI Mode which means Artificial Intelligence Support comes with Honor 8X. With this technology cameras detects 22 different scene categories and optimize the best setting for them and increase the quality of the captured photos. You are going to take advantage of these with photos captured at nights especially. If you use special Night Mode while taking photos, you will see the increase of the quality within the seconds.
There is a 16 MP Selfie camera front of the device. Of course it comes with beauty mode as well as other Huawei's smart phones. It has f/2.0 diaphragm level and 26 mm wide angle. Also it comes with HDR capturing support. By the way, you'll get Full HD 30 FPS performance while capturing videos. On the other hand you will get 60 FPS while capturing Full HD quality videos.