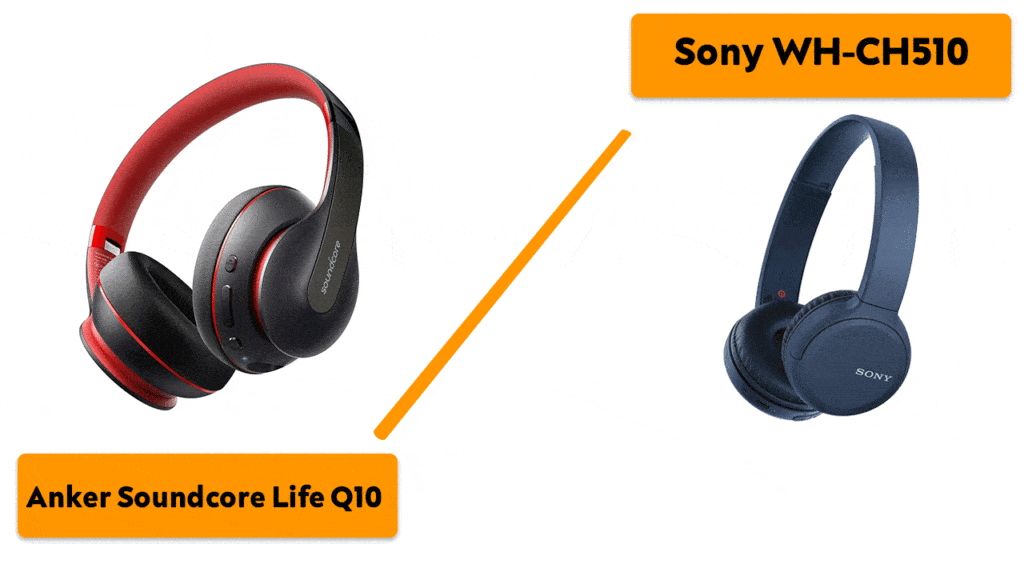 The entry-level Bluetooth headset segment is a highly competitive market. We are comparing the Sony WH-CH510 and Anker Soundcore Life Q10, the two most preferred headphones in this segment for you.
Soundcore Life Q10 vs WH-CH510!
As you know, 2 headphones were launched in a similar period to each other, and now the price of the two headphones is almost the same. But when you experience both headphones, these headphones are indeed very different from each other.
Material quality
A surface with a texture full of matte plastic and tile patterns welcomes us at Sony. At this point, the plastic used around the headset does not feel cheap. We can say that it is good for an entry-level headset. But the joints of the headset are again plastic. At this point, metal joints could be more robust. When we look at Anker, we see that it has a plastic texture that feels extremely high quality for the entry level. Metal parts are also used in the joints and make it feel solid; we liked this. The feel of the keys is good for both models. Also, they settled well. At this point, I am giving plus points to both headphones.
Ergonomics
Let's talk about ergonomics, we have artificial leather pads on both headphones. On the upper side, Sony does not have any soft material, while Anker has chosen to use a soft silicone-based material. On the pad side, we can say Anker is one step ahead of Sony thanks to its memory ear cushions. Sony's superiority over Anker here comes from its lightness.
Battery Life
Anker promises a 60-hour lifespan for the Q10 model, according to factory data, while Sony promises 35 hours. Aside from factory data, we saw that Anker could not meet 60 hours in real use, while Sony was able to meet 35 hours as stated. However, we can easily say that Anker did not fall below 45 hours, which is a very good value.
Sound Quality
Both headphones have USB Type-C and Bluetooth 5.0 support, which we are used to from high-end headphones, although they are at the entry level. At this point, neither earphone has an advantage over each other. The difference is in the drivers. Namely, Anker has drivers with a diameter of 40 mm, while Sony has 30 mm drivers. As you know, bigger drivers mean more saturated sounds. Anker has even exaggerated the job so much at this point that it has even managed to get Hi-Res Audio, ie high resolution audio certification, with these headphones. The sound you get from Anker is really clear and satisfying. The Soundcore Life Q10 really does justice to this high-resolution audio certification.
Anker has bass-heavy tones, while Sony has more balanced tones. If you love bass; Anker might be a better option for you because we also have an extra "Bass Up" button here. When we use the Bass Up mode, we can get more crazy bass. Anker manages to provide us with bass that will make your brain vibrate. As for Sony, the bass is still satisfactory, although not as much as Anker.