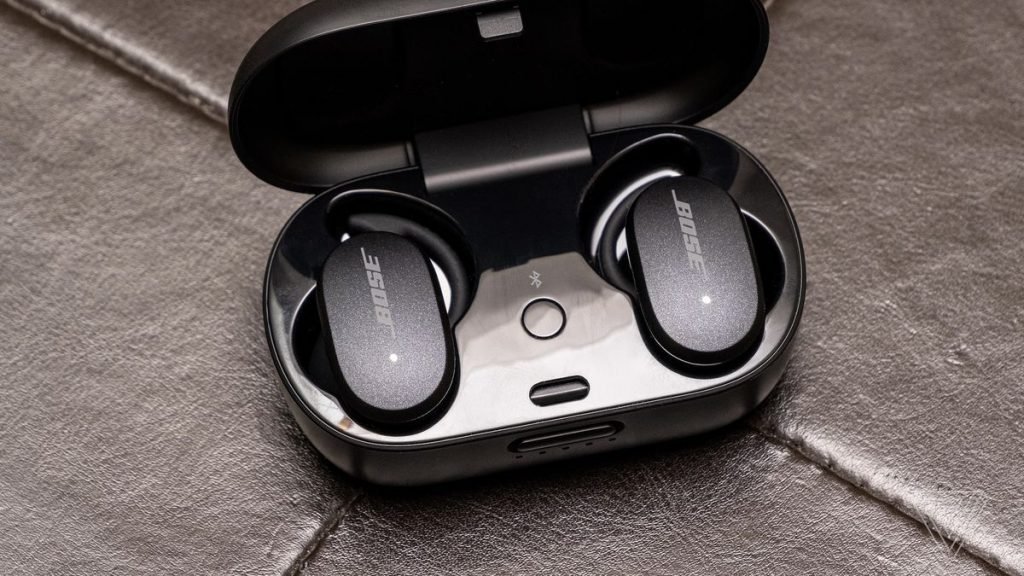 We reviewed the best noise canceling headphones: Bose QuietComfort Earbuds and Bose Sport Earbuds developed for music-loving athletes.
In this review, we are here with a product that outstands from the recently released wireless headphones. Recently, especially with the smart phone manufacturers entering this category, many wireless in-ear headphones have appeared on the market. Yes, many of them also show successful features, that's right. Bose is one of these.
We are sure that many of you have heard and know the Bose brand. There are definitely those among you who use their products. You know they are very good at sound. Of course, it is also clear that their products are expensive. When it comes to price, of course quality comes into play and of course the brand name affects the price tag. But let's say that the Bose QuietComfort Earbuds and Sport Earbuds models, which we will take a closer look at today, are among the best wireless headphones we have reviewed so far. In this sense, we can say that they are among the models that audiophiles are looking for. QuietComfort Earbuds, especially from these 2 headphones, really make an enormous difference by offering the best noise canceling performance in its class. We will talk about all of them, now let's start to explain slowly.
QuietComfort Earbuds and Sport Earbuds Designs
First, let's get to know the headphones by their designs. Bose QuietComfort Earbuds and Sport Earbuds are remarkably similar products in terms of design. The QuietComfort model is slightly larger, while the Sport model has smaller dimensions. Both earbuds have soft silicone ear tips, and they use a winged design to fit comfortably in the ear and not fall out. You can find these silicone caps in 3 different sizes in the box. It is important to wear it whichever you are comfortable with. Buds need to fit your ear perfectly, especially to provide passive noise cancellation. In the meantime, let's also point out that the silicone caps are in cone design. Thus, these caps can ideally cover the ear canal.
Touch Controls
The outer surface of the headset hosts touch controls as you can imagine, of course. You can increase the volume by sliding your finger on the right earbud. When you double click, you can pause and resume the song or answer calls to your phone. If you hold it down, you can wake up the assistant or reject incoming calls.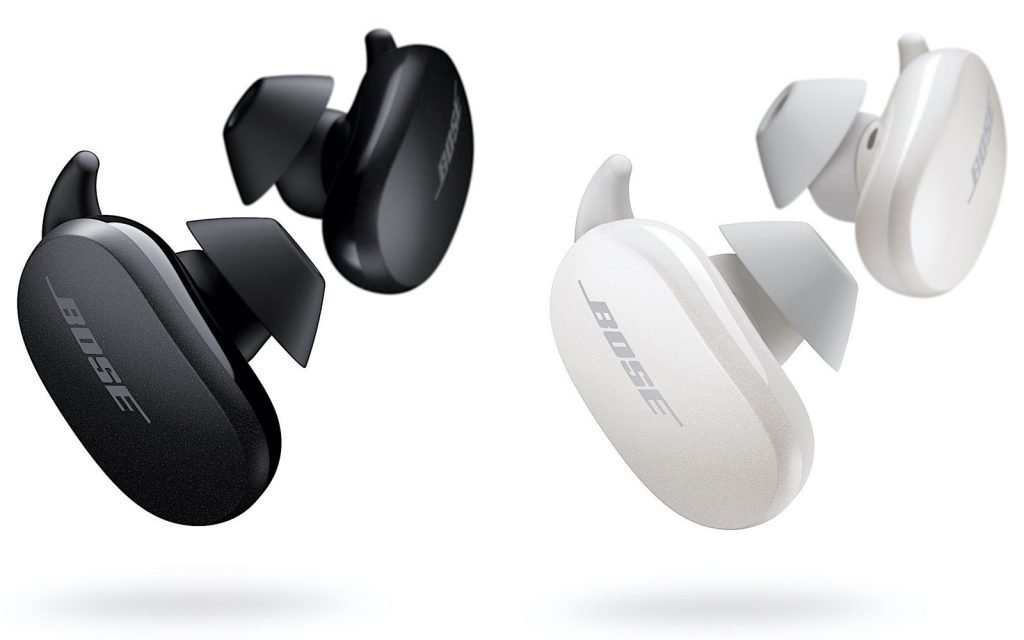 On the left earphone, you can change the noise canceling feature in 3 levels, which we will talk about in more detail shortly.
Similar controls are also available on the Sport Earbuds model. The only difference is that this headset has no noise canceling feature.
The most obvious difference between the 2 headphones is that the active noise canceling feature is in QuietComfort but not in the Sport model. In addition, the QuietComfort model also provides wireless charging support. We will also talk about that.
Both headsets are IPX4 certified. This means that these 2 devices are resistant to sweat or light rain, so you don't have to worry about splashes. However, it is important that you do not contact water directly.
In terms of the design of the headphones, let's also say the following: You can find QuietComfort Earbuds in black and off-white colors. Sport Earbuds, on the other hand, have Baltic Blue color, as well as Glacier White and again black color options.
Bose QuietComfort Earbuds Connection Quality
The headphones support Bluetooth 5.1 wireless connection. You can start pairing by holding down the button on the inside of the charging cases and easily connect to audio sources. You can also control the headphones on your phone via the Bose Music application, and you can make many settings from the application.
One of the most impressive things about the headphones is that they can provide a stable connection. We have been using both headsets since November 27, and during this time, we have not encountered any interruptions in the headphones we use with both phones and laptops. It is also important that it can provide a range of up to 12 meters. In this way, those who want to use these headphones especially in the gym will be comfortable.
In the meantime, when you remove the headphones from your ears, the sound is automatically cut off.
Noise Canceling Feature and Sound Performance
Now let's get to the noise canceling feature of QuietComfort Earbuds. Without activating this feature, you can already provide a good passive noise canceling performance from the headphones. However, when you turn on ANC, the whole thing changes.
ANC is provided in 3 levels in this headset. Noise cancellation possible at low, medium and high volumes. When you set this feature to the highest level, in outdoor use, the noise of motorcycles, the sounds of children running in the park and other disturbing noises are muffled. You may find that many annoying sounds are blocked even when you use it at medium level. If you want to hear the surrounding sounds while listening to music at the same time, this time, just set the ANC to a low level.
Thanks to this successful noise canceling feature of QuietComfort Earbuds, you can of course listen to your favorite music in a more enjoyable way without being disturbed by the sounds around you. Like the ANC feature of the headset, the musical performance is also extremely good. It can provide rich and clear sound bundles. We have listened to a lot of Synthwave, especially because of Cyberpunk 2077, and we were very pleased with the bass performance it produced in this adventure. But it should be said that this is achieved in a balanced way. In other words, the headphone provides a balanced and effective bass performance rather than a bass level that hits your ear.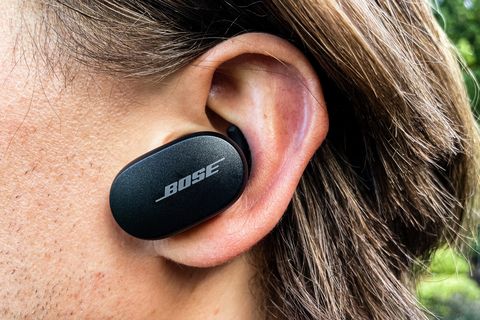 EQ Technology
Bose's Active EQ technology is just at play. This technology automatically enhances and balances the bass and treble, thus pursuing a balanced structure with music.
On the other hand, let's underline that if you admire Jazz and Blues and you will enjoy instrumental melodies. Of course, that's not all. It should be noted that whichever music you listen to, you will get the feeling that the music is playing around you, not directly in your ear.
If you are looking for a cheaper headphone you can read our: https://www.techblimp.com/2021/01/01/logitech-g432-review/
In addition to QuietComfort Earbuds, we can repeat similar lyrics about musical performance for Sport Earbuds. As we said, the difference that can be shown in the Sport model is that it does not have ANC.
By the way, there are 4 microphones in both headphones. QuietComfort Earbuds makes the ANC difference here again, of course, but both devices do an excellent job in phone calls. It should be noted that QuietComfort Earbuds also provides the best search quality in this area. Because, in our comparison of many wireless headphones, we received feedback from the person during the call that QuietComfort Earbuds found the sound transmission better.
Bose QuietComfort Earbuds Battery Life
So, how are the earbuds charging going? One of the main differences between QuietComfort Earbuds and Sport Earbuds is in this direction. QuietComfort Earbuds provide up to 6 hours of battery life, while Sport Earbuds have up to 5 hours of listening time. However, if you minimize the ANC feature of QuietComfort Earbuds, you can exceed 6 hours. So much so that when we used ANC at full level, we got a result of 5 hours and 45 minutes.
Of course, when you do not use both earphones and want to charge them, you put them in the box. I have to admit that the box of QuietComfort Earbuds is a bit big, but it has the advantage of offering wireless charging. The charging case of QuietComfort Earbuds is Qi certified. So, this means if you have a Qi charging pad, you can wirelessly charge this box. While the box provides 12 hours of extra battery life, let's also say that you can get approximately 2 hours of battery life by charging the headphones for 15 minutes.
In Brief
As a result, Bose has done an excellent job with both QuietComfort Earbuds and Sport Earbuds wireless headphones. If you are looking for this type of headset and insist on active noise canceling, we can say that you will be more than satisfied with the QuietComfort Earbuds model. If ANC is not necessary, and if you want the price to be a little more affordable, you can get the Sport Earbuds model to your focus this time. The prices of the headphones are $279.00 for QuietComfort Earbuds and $159.00 for Sport Earbuds. As we said, they are not very cheap products, but the quality they offer in return is enormous.