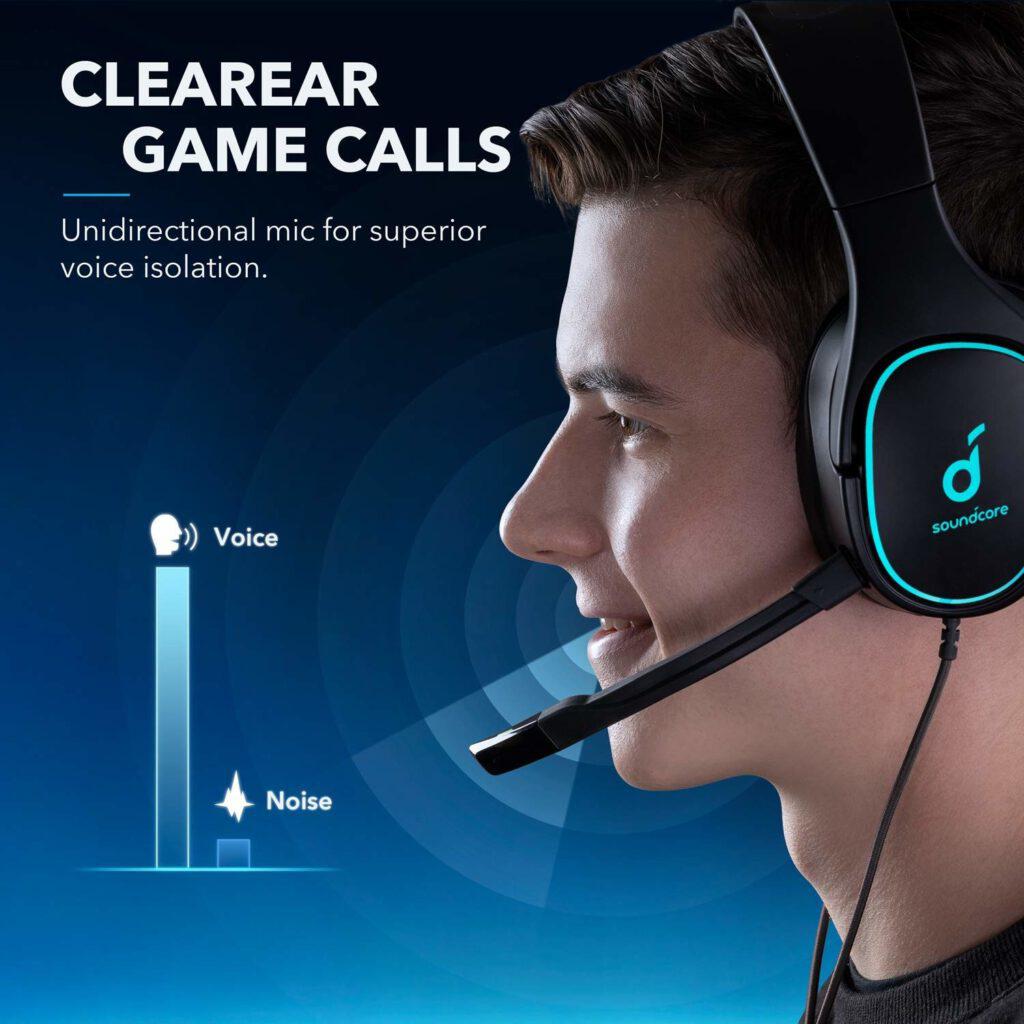 Today we are going to review Anker SoundCore Strike 3 for you and talk about our experience. Whether on the PC or on the PlayStation 4, the sound and therefore the headset are of foremost importance for gamers to enter the atmosphere of the game. Although the sound quality of the speaker connected to the PC is good and although you are satisfied with the sound performance of the TV to which the PlayStation is connected, it is really difficult to complete the atmosphere of the game world without a headset.
Because somehow environmental noise can be disturbing and even if you are playing games on a laptop, even your favorite game can become disgusting because of the furious shouts of the fan. Especially in the recent period, with the popularity of competitive games once again in the history of the game, the phrase "volume up" finds its return in a good headset.
Anker's SoundCore Strike 3 headset, which we will review today, is also a good headset that can meet this need.
SoundCore Strike 3 Design
Let's start with the design of SoundCore Strike 3 first. Designed in a way that environmental details prioritize comfort, SoundCore Strike 3 has wide drivers. The 52 mm drivers are designed to surround your ears and are suitable for long-term use.
A comfortable sponge material is used on the inside of the headband, and antiperspirant cooled pads are used in the ear cushions. The company, which develops soft memory foam ear pads with a cooling gel for comfortable use, provides a pleasant use for your long-term gaming sessions.
We played The Last of Us Part II and Ghost of Tsushima games for more than 40 hours with these headphones and did not feel disturbed.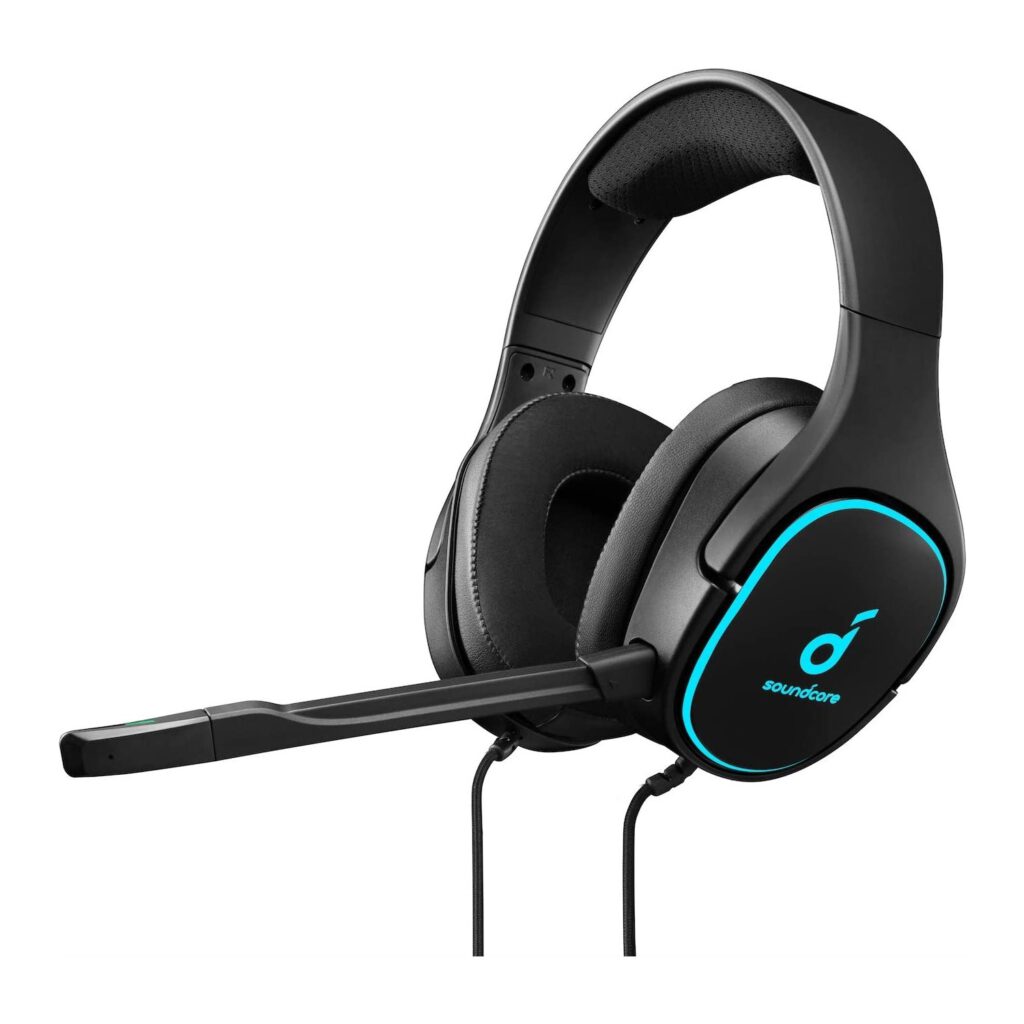 SoundCore Strike 3 Features
You can use SoundCore Strike 3 with a PC or PlayStation 4. We used it on both platforms, but we spent most of the time especially with PlayStation 4. If you are going to use SoundCore Strike 3 on your computer, we recommend you download the application called SoundCore Gaming. Because this headset offers virtual 7.1 sound support, and you can adjust the sound profile to suit you through this application.
Equalizer Options
Through the app, you can easily adjust basic functions and fine-tune 7.1 sound support. Additionally, your equalizer options and settings related to the microphone are also available in this application. These settings are not extremely broad, but they are satisfactory for the class.
Anker SoundCore Strike 3 USB Connection
You can connect SoundCore Strike 3 to your computer via USB and it has a remote on its 1.7-meter cable. There is a volume wheel on this remote, the microphone volume switch and another switch that allows you to turn the 7.1 sound on and off. The location of this remote works well, but we didn't like its placement on the cable. You may sometimes have to manually search for the remote on the cable, which is in the middle of the cable.
By the way, speaking of the cable, I have to say that there are separate cables for both drivers of the headset. We think it would be better if this cable was extended by one driver, because when you want to remove it from your ear, you have to take the headset off your head.
SoundCore Strike 3 Performance
I have been very satisfied during my use of SoundCore Strike 3. As I said, the surround sound support of the headset, which I had the opportunity to use in many games on both PC and PlayStation 4 for a long time, is very successful, and also the bass level is good for its class.
SoundCore Strike 3, which uses a special processor on footsteps, especially with gun shots and environmental sounds, offers players an advantage for PUBG, Fortnite and Valorant. It should be noted that the microphone, which also provides sufficient support for voice communication, has a noise canceling feature.
You can also read our Anker SoundCore Life q10 review: https://www.techblimp.com/2020/08/07/anker-soundcore-life-q10-review/
Anker SoundCore Strike 3 is Waterproof!
It is necessary to open a separate paragraph for the microphone. Anker has prepared the SoundCore Strike 3's microphone to be waterproof. With its IP5X certification, the microphone, which is resistant to liquid spills, is also removable, providing comfort when you are not using it.
Lightning
One of the things we should talk about SoundCore Strike 3 is the lighting. As soon as you wear the headset, you will see the blue lights on both drivers. Yes, though there is no RGB lighting, I have to say that this lighting adds a nice atmosphere to the headset.
In Brief
As a result, we can say that SoundCore Strike 3 is a very enjoyable headset. The headset, which we find extremely comfortable, is also at an exceptionally satisfactory level for its class with its sound performance. Yes, you may not like the plastic structure, but Anker, which makes a difference with its illuminated design, we believe that it has done a good job for game lovers who provide a good sound at an affordable price and want to enrich it with 7.1 sound support.
Who Should Buy It?
Gamers who play games for a long time with their computer and PlayStation 4 should buy Anker SoundCore Strike 3.