Samsung Galaxy Note 9 Review
Note: Before reading this article, you may want to look at Part I of this review. You can find it by clicking here.

What features comes with New S Pen?
Yes, continuing to talk about software of device, let's talk about the newest S Pen's features which have been offered to users. Today, S Pen have newest features such as Bluetooth connection to the device. You can control your device thanks to the S Pen Bluetooth Low-Energy technology. Yo ucan open your device's camera by pressing two times the button or change between front and rear cameras and by pressing again you can take a photo as well. On the other hand, you can scroll photos through your Gallery, listen music on Music Player and change tracks or you can control your presentations.
Of course these features can change depend on user preferences whether they find it useful or not. But in our opinion, these are great add-ons. Especially taking selfies from a distance or taking group selfies, we think using S Pen is really practical way to use for these issues. By the way, it is important tosay that you can learn how to use S Pen in detail thanks to S Pen Remote Control Menu. On the other hand, it is expected to these features would be improved by third party developers.
The New S Pen needs a mini battery in it to accomplish these tasks. You don't need to guess the battery level; you can see the battery level by looking the S Pen's battery level pop up on notification screen. By the way it is really easy to charge the S Pen. You just need the plug the S Pen in its port on the device. You recharge your S Pen within seconds.
Of course these are not the only and main features of S Pen; S Pen continues its legacy for its own purpose. There is no change for pressure level of S Pen; it still has 4096 bar of pressure level. You can experience the same feelings on previous Note 8 such as taking notes on Always-On Display mode, simultaneous translation, converting your notes to GIF or else.
You will face a pop up menu after unplugging the S Pen from its port. In this menu you see Create Notes, Display All Notes, Smart Choice, Screen Note, Live Message and Translate sections. By the way you can add more sections to this menu. It is possible to control your device by using S Pen completely such as texting on Social Media or sending and receiving e-mails.
What about the success of Finger Print Scanner, Iris and Face Scanner?
Samsung change the location of finger print scanner under the rear cameras as we said before. It is really good to see some improvements, however it is still hard to reach to be honest. However this problem is caused the sizes of the device, there is nothing to do about it. In this way, Samsung will solve this problem with Galaxy S10 by using an integrated finger print scanner under the device screen.
However there is no cons about the performance of finger print scanner, it scans your finger print within milliseconds and unlock your phone nearly at the same time. Of course this is not the only security type, you can unlock your phone by using IRIS scanner or Face Scanner as well.
At this point, Samsung combined these two technologies on Note 9 and called it Smart Scan. You can use both Iris and Face Scanner at the same time for better security issues. So Note 9, allows users to scan their Iris and Faces at the same time in order to faster unlock and corrections compared to one scanner type. We can clearly say that, it works perfectly with different lightings such as extreme low light or bright light conditions.
What about Galaxy Note 9's performance?
Yes it is time to talk about the performance issues in our review. We are going to talk about Galaxy Note 9 hardware features, new differences and of course performance review. At this point, let's quickly talk about the differences from previous model Note 8, there are important improvements between them however do not expect big differences compered to Galaxy S9+.
As always it uses different processors for different regions. Such as American and Chinese models of Note 9's powered with Snapdragon 845 processors however this situation changes on EMEA countries' models. These Note 9's powered with Exynos 9810 Octa processor. In this way, we can observe some improvements on performance tests compared to Note 8 however it has same scores compared to Galaxy S9 Plus model.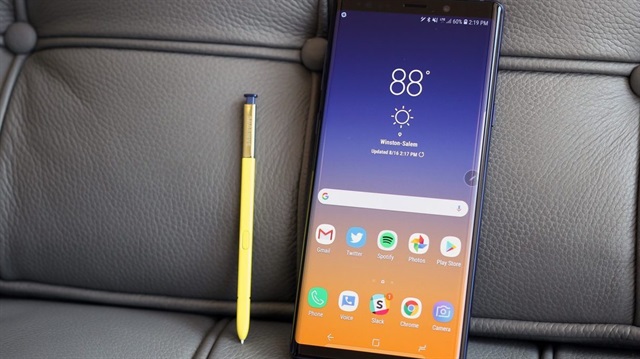 We've talked about Snapdragon 845 processor before so let stalk about the newest processor of Samsung. Exynos 9810 Octa has 8 cores in it. 4 of these cores have 2.7 GHz frequencies and other 4 of them have 1.8 GHz frequency level. On the other hand we also see Mali-G72 for graphic processor module. Currently, we have 6 GB RAM version of Note 9 just like previous model Note 8, however as we mentioned there is another model of Note 9 which comes with really powerful 8 GB RAM capacity.
There is an update about the storage capacity. If you remember, Note 8 comes with 3 storage capacity options which are 64. 128 and 256 GB versions. However Note 9 have only 2 options which are 128 GB and 512 GB of storage capacity. There is also microSD card support of Note 9, you can increase the storage capacity up to 1 TB with an additional 512 GB microSD card.
The battery capacity of Note 9 has increased as well. We will talk about the performance of 4000 mAh battery later in our review with a detailed battery test. But first let's talk about the AnTuTu and Geekbench scores of Note 9.
As you expect, the game performances of Samsung Galaxy Note 9 is really successful. In this way, you can play PUBG Mobile, Fortnite or other high-end games with highest performances. You will see the advantages of bigger screen of Note 9 by playing these kind of games. At this point, finally we see stereo speakers with Note 9. As you know there is no stereo speakers within  Galaxy Note 8. By the way, you will find a headphones with AKG in the box and it has really successful performance.
Before closing this case and talking about Note 9's batter performance, let's talk about DeX. Since there is really powerful device in our hands which you can use it as a PC, it needs to be done. Improving the DeX usage with Note 9, Samsung replaced the physical HDMI dock with USB-C port. You can use your HDMI cable with an adapter and enjoy the computer experience on your Note 9.
Battery Performance of Samsung Galaxy Note 9
Yes it is time to talk about performance of Galaxy Note 9. As we all know, Note 7 pulled out of the market and caused many problems to Samsung. Due to this problems have been occurred, Samsung brought strict rules while producing Galaxy Note 8. Of course these rules applied to Galaxy S8, Galaxy S8+, Galaxy S9 and Galaxy S9+ models. Assuming from current quality of these devices, we can say progress of these rules applied successfully and achieved great process. We don't face such problems about battery nowadays. At this point Samsung has increased the Galaxy Note 9's level of battery up to 4000 mAh. So what about the performance of this new battery?
At first, we have applied a Geekbench Battery Test and the results were promising, we see that Note 9 can last up to 11 hours with overhaul usages. In this way Note 9 made better scores than Note 8's 9 hours battery performance test. Of course assuming from 700 mAh increase of battery, there is not huge difference between these two phones.
Comparing the overhaul performances of Note 9 with other flagship phones on the market; LG G7 ThinQ lasted approximately 10 hours and 30 minutes, Huawei P20 Pro lasted 11 hours as well. On the other hand Galaxy S9 Plus, lasted 9 hours and 33 minutes and HTC U12 Plus scored with lasting 7 hours and 30 minutes. In this way we can say that Note 9 set a place near with P20 Pro and G7 ThinQ.
Now let's talk about daily usage… Galaxy Note 9's battery level reduced to 45% on our test by checking e-mails, social media text, a little bit gaming, capturing some photos and capturing videos as well. Of course this scenario will change after using some time of Note 9. However we need to wait for our Long Usage Test later.
The other test conducted by us was about 90 minutes Full HD video capturing test. At this test, we set the brightness to maximum level and our device has connected to Wi-Fi through the test. After completing this test and about 100 minutes, our Note 9's battery level reduced only 7% of full level. Comparing this results to Note 9's opponents such as LG G7 ThinQ lost its 16% energy, S9+ lost its 13% energy, HTC U12+ lost 23% of its energy, iPhone X lost 10% of its energy and Huawei lost only 5% of its energy. In this way, we can say that Note 9 and P20 Pro share the top place of this test. However it is important to say that they have same battery size in the case.
So what about the recharge time of Samsung Galaxy Note 9. The recharge process of device is really fast compared with other devices. 4000 mAh sized battery can be fully charged about 1 hour and 49 minutes. We checked the battery level of device every 15 minutes while charging. Here is the results:
At 15 minutes; 17%
At 30 minutes; 37%
At 45 minutes; 52%
At 60 minutes; 70%
At 75 minutes; 83%
At 90 minutes; 90%
At 105 minutes; 98%
At the end of 1 hour and 49 minutes, the device was fully charged.
Let's compare these results with Galaxy Note 9's opponents. HTC U12+ was fully charged within 3 hour and 17 minutes, LG G7 ThinQ was fully charged within 2 hours and 15 minutes, Huawei P20 Pro was fully charged within 2 hours and 6 minutes and Galaxy S9 Plus was fully charged within 2 hours and 4 minutes completely. By the way Galaxy Note 8 can be fully charged within an hour and 53 minutes. At this point it important to highlight that Note 9's 4000mAh sized huge battery can be recharged really fast.
Before closing the battery section, it is important to say that Note 9 supports Wireless charge and Fast Charge standards as well. Now let's talk about the cameras of Note 9.
Camera Performance of Samsung Galaxy Note 9
Yes we are at the last section of our long Note 9 review; here is Note 9's camera performance. We can say that Note 9 overthrown the cameras of Galaxy S9+. Of course with these there are differences between Note 8 as well.
Samsung has brought first cameras with f/1.5 diaphragm level with Galaxy S9+ and they made them fancy with double diaphragm technology. Today Samsung uses the same technology and let users the experience same performance. With this technology diaphragm levels can change between f/1.5 and f/2.4 levels in order to capture extreme photos with low light conditions. This technology comes within Note 9 as well.
One of the rear cameras with 12 MP can do 2x optic zooming. So there is also telephoto lens which you remember from Note 8 before. Also there is OIS support on both cameras. On the other hand we see that AI application with Note 9. With this technology scenes changed to better ones and color tones changes automatically. Note 9 can scan 20 different scenes with this technology and with this it can reorganize  dawn, flower, meal, animal, indoors and other scenes correctly.
On the other hand Samsung brought Flaw Detection feature with Note 9 with this technology device informs users about blurry photos and reverse light situations. Also it informs you when you clap your eye borrows.
Of course Note 9 reached many milestones about video capturing. While capturing videos OIS made really perfect job actually, you can capture videos with 60 FPS and 4K levels. On the other hand there is also 960 frames slow motion video record support as well. Of course it is possible to capture quick shot videos on the camera interface. By the way it is important to learn how to use slow motion mode. Otherwise you may lose the moment of exact time.
Talking about camera interface, let's say there are dozens of options in the camera interface. There are professional modes and different effects types in it. Also, there is Bokeh option in it thanks to dual camera of Note 9. With this mode you can capture photos with live focus feature and also you can change the depth of photo by your own.
As a final words, there is also AR Emoji support which was introduced with Galaxy S9 Plus by Samsung and finish our review here.