Briefly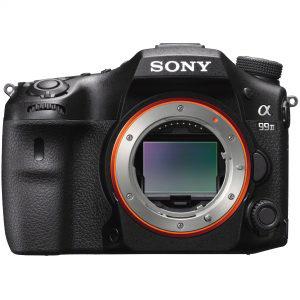 Sony, has made important changes after original Alpha 99, and became really successful. Sony Alpha A99 II comes with a lot of different basic features, high resolution lenses, more talented Auto Focus system, better video features and more compact design. In this way, A99 II obtains far greater user range, preferring for either photos or videos. Of course, there are some deficiencies such as new auto focus accessibility, quality of video recording of a little bit worse battery life in contrast to original Alpha A99 II.
Price of Sony Alpha A99 II is approximately, $3.200 on the market.
Who should buy Sony Alpha 99 II?
We recommend Alpha 99 II for photograph lovers who prefers to have a good camera with good DSLR abilities.
Sony's Alpha 99 II which is flagship on camera category, we have reviewed for you. Here are the details.
First and original Sony Alpha 99 have been introduced 3 years ago. Many of users was amazed to this beauty. Just as releasing a prequel movie of a successful movie, Sony Alpha 99 II introduced as well. We've reviewed for you before buying it.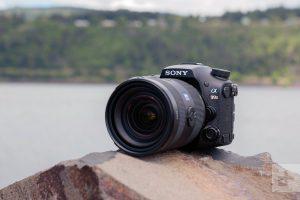 Sony has made great achievement, thanks to the Full Frame Alpha compact cameras. We can say that, this newer model has upper hand compared to previous model. On the other hand, we can say besides from having high resolution, full frame sensors Sony has become very successful with its' exciting technology. Actually, we can say that, a DSLR type camera like Sony Alpha 99 II, ends the necessity of looking behind the visor tradition which comes from Canon, Nikon or Pentax. Of course, it's important to say that, Sony Alpha 99 II is a Mid-size SLR camera.
The new model, of course shares the same features from SLT concept. On the other hand, it combines the advantages in addition of layout of SLT concept with exclusive concept from A7 series models. Talking about these features, 42.2 MP sensor and 5 axis optical image stabilization system has been included to Alpha 99 II.
Design of Sony Alpha 99 II
Design of Alpha 99 II has a case made from magnesium composite materials, mostly resembles the first model of Alpha 99 series. Although, comparing them on their sizes, Alpha 99 II is almost %8 percent smaller than original Alpha 99 II. This also means that they have been reducing the DSLR usage to more compact sizes.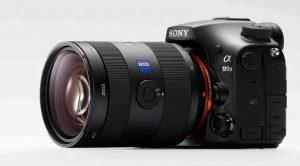 Differences between these devices becomes much clearer, if you compare these two cameras side by side.  Alpha 99 II, becomes a lighter cam
era compared to previous model. Furthermore, it became more comfortable device thanks to the lack of masculine layout as like previous.
Having the 3" sized screen on the device, Alpha A99 II, continues to let you use screen on different angles. Unfortunately, we are facing against a display without touch screen ability, just like the previous model. On the other hand, Sony has used White Magic TFT LCD panel for Alpha 99 II's screen.
There are two microSD card, a microphone, and a headphone ports included with a micro HDMI and a microUSB ports. On the other hand, there are Wi-Fi and NFC supports too for this device.
Features of Sony Alpha 99 II

Alpha 99 II, has got a 42.2 MP sensor and 5 axis optical image stabilization system which came from a7R II from a7R series, as we said before. In this way, A99 II has really improvised the active pixel sensor's capabilities, besides from being a great helper especially for moving scenes thanks to 5 axis optical image stabilization system. Coming with 7952×5304 pixel ratio at maximum levels, includes CMOS led lighting, as well.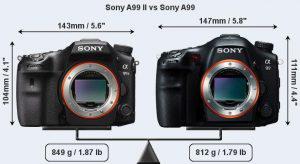 Talking about moving scenes, let's talk about video recording features. Alpha A99 II, allows the users to record 4K 30 FPS with 100Mbps videos, besides from slow motion recording with 120 FPS at Full HD mode. Of course, you can record Full HD 60 FPS videos, as well.
Using Hybrid phase detection autofocus system, the device has also got 12 FPS constant video recording ability for Raw mode recordings. With 399+79 point dedicated phase autofocus system, it is possible to get really serial Depth of Field in real life.
We've really liked both video recording and photo capturing features of Alpha 99 II.