AMD Radeon RX 590 A
Briefly
Radeon RX 590 is really successful graphic card for users who prefers playing video games for Full HD and 2K resolution specifics. You can buy a brand new AMD Radeon RX 590 for $269.99 USD on the market, which makes this beautiful graphic card as a great opponent for NVIDIA's graphic cards. Of course this is not best option for users who are currently using Radeon RX 580 as a graphic card on their boards. Because there is only 15% percentage of performance increased between these hardware.
Who Should Buy AMD Radeon 590X?
Users who wants to prefer purchase a graphic card which is more powerful and cheaper compared to NVIDIA GeForce GTX 1060 graphic cards and wants to play video games on Full HD and 2K screen resolution. With this beautiful graphic card you can experience smooth game play with highest resolutions and maximum performance thanks to Radeon RX 590's newest chipset technology.
The Beast of AMD with 12 nm architecture size. Radeon RX 590, over thrones GTX 1060 easily. Here is detailed review of Radeon RX 590!
We always talk about the achievements of AMD nowadays in the office. AMD changed its design perspective and vision throughout the years. Besides from Processors and other kinds of hardware products, they made tremendous impact on the market with their graphic cards. As you know, they have introduced AMD Radeon VII which has become the first graphic card with 7nm architecture on CES 2019. Of course we are going to talk about that card as well in the future, however today Radeon RX 590 becomes our guests with its 12nm architecture which becomes first graphic card its size and architecture.
Radeon RX 590 is simply based on AMD's 12nm FinFET Polaris 30 architectural design and becomes simply more powerful compared to its predecessor RX 580. If you remember RX 580 is powered and based on 14 nm FinFET Polaris 20 architectural design. Besides from their architectural differences there are also difference between their clock frequencies.
We will also talk about technical details of this card but it is important to say beforehand. Radeon RX 590 placed between NVIDIA GTX 1060 and GTX 1070 and becomes their direct opponent. Actually it has similar performance ratios with NVIDIA GTX 1070. Up to this point in time, Radeon RX 590 outmatched GTX 1060 on our tests and utilization scenarios. Keeping these results in our minds, we also compared their prices and as we see RX 590 is a lot cheaper than GTX 1060 as well. This is also another advantage of this Graphic Card. So, let's look into technical details of Radeon RX 590.
What are the technical properties of Radeon RX 590?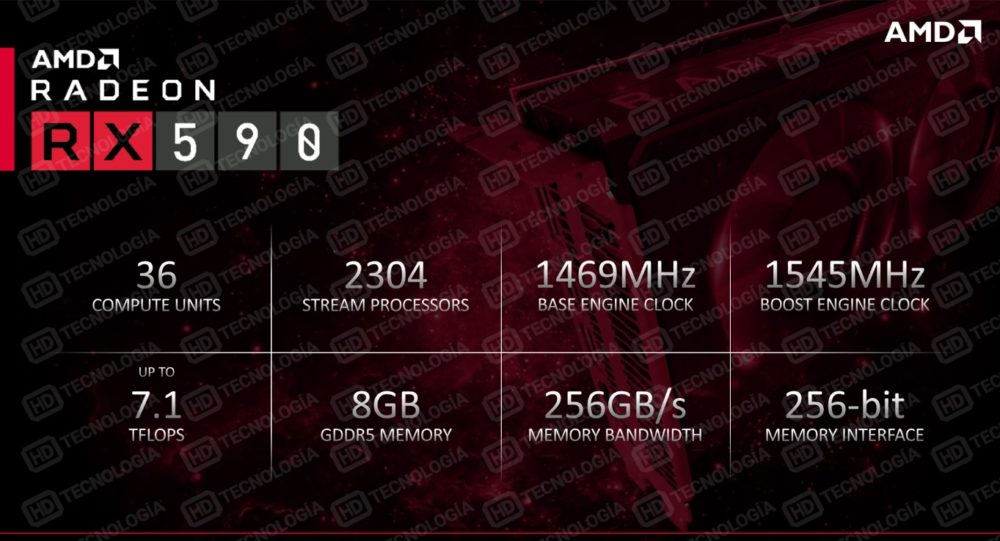 Our graphic card "Radeon RX 590" has 12 nm architecture and it can access to 7.1 TFLOP at maximum performance conditions. On the other hand, it has 36 different process units and 2304 Shader Processors. At this point it has similar structure with RX 580, it also have 32 ROP units as well.
RAM capacity and Band Length
Talking about its units, let's talk about its RAM capacity and band length. Radeon RX 590 has 256-bit memory band length and 8 GB GDDR5 RAM capacity which is also offers 8 Gbps working frequency. It also works on 1469 MHz base clock with its core clock frequency, however this numbers may raise till 1545 MHz at maximum levels. However, our card is an overclocked model of XFX and it can work on 1580 MHz at maximum levels. Also you can reach at 1600 MHz with overclocked hardware. You can also find this graphic card on the market with other brand names.
Different types of slots

RX 590 has double slot form factor on your computer case, there is 3 different DisplayPort 1.4 and 1 HDMI 2.0b port on the card itself. The height of this beast is 241 mm level. We also face with aluminum plates on the flesh side of this card.
It has different supports for newest technologies such as VR and FreeSync. Beside from that you can play your video games on Full HD and 2K resolution ratios with smooth performance capabilities. Talking about RX 590's performance, let's look into the tests of our which have been applied to RX 590.
How is the performance Radeon RX 590?
Beforehand, let's talk about our hardware which we used RX 590 as a graphic card. We used AMD Rxyen 7 2700X as a processor. The mainboard of our computer is MSI X470 Gaming M7 AC and we use XPG SPECTRIX D80 DDR3 RAM cards with 16 GB size.
Our computer powered with FSP Hyper K 700W Power Supply Unit and stored in FSP CMT510 computer cabinet. We preferred Dark Aqua Force W240 as a water cooling system. Also we used XPG SX82000 M.2 SSD as a storage unit.
Let's talk about syntactical tests. Our first test includes Time Spy. It has 5170 overall score on this test with 2K resolution. However it scored 14125 points on Fire Strike with Full HD resolution, RX 590 scored 35833 points and 35806 points on Night Raid. If we look in to Cinebench test, we see our Radeon RX 590 works on 106 FPS at overall results.
So, let's talk about the entertaining test; GAMING!
Game performance of AMD Radeon RX 590
Talking about its game performance, we tested this graphic card while playing Assassin's Creed Odyssey and Far Cry 5.
Playing Assassin's Creed Odyssey at Full HD resolution, we have reached 46 FPS average and it has 36 FPS frames on 2K resolution. However, playing the game on 4K we could only reached at 22 FPS average results.
Playing Far Cry 5 at Full HD resolution, we have reached 78 FPS average and it has 56 FPS on 2K resolution. Talking about 4K resolution, it has more score than playing Assassin's Creed's performance which is 29 FPS frames. By the way, we played both of these games with ULTRA settings.
By the way in our tests we didn't overclocked neither our system nor Radeon RX 590. Also we set the working profile of our graphic card was balanced. Although under these conditions, how is the general performance of Radeon RX 590 with real timing gaming tests? Let's look into that.
Before talking about results section and closing Performance topic, let's talk about RX 590's heat and power consumption values. Nominally, it reaches at 35 Celsius degrees while surfing on the internet etc. but it reached at 78 Celsius degrees under harsh conditions. Comparing these results with NVIDIA GTX 1070, we can humbly say that Radeon RX 590 works a little bit hotter.
Power Consumption Issue
In contrast the power consumption issue becomes the biggest negative side of this graphic card which we face while using it. This beast consummates about 220 Watt under harsh conditions which is relatively close to RTX 2080 graphic card which is commonly accepted as the best graphic card.