South Korea-based technology giant Samsung is among the pioneering names of the smart watch world. The company also works for the safety of these models.
In 2018, many smart phones with integrated fingerprint sensors were on sale. This is where Samsung wants to bring this technology to smart watches as well as smart phones. The company that patented the fingerprint sensor that will work as integrated into the smart watch screen plans to add a custom layer of security for hours. The Galaxy S10 family is preparing to use an integrated fingerprint sensor for the screen, where it develops not optical ultrasonic sensors. The ultrasonic sensors are working more stable and fast than optical sensors. It is estimated that the future Galaxy Watch models will also have an ultrasonic sensor that is not optical.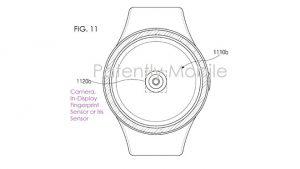 Samsung is Actively Developing This Infrastructure. Do You Need to Secure the Smart Watch Models?
For the current infrastructure, it's called a lot of need. Because the current smart watches have more notifications. However, the clocks will become a substitute for phones in the coming years. In this respect, the security of these models seems to be very reasonable. So this infrastructure is important for the future.