Briefly
Klipsch Reference R5 Neckband, is a special headset. Klipsch Reference R5 Neckband pleases not only users who especially prefer models, taking attention with its design aspects but also its sound quality and comfortable usage. By the way, we wish there was apTX HD technology within the device, it would be awesome.

Who should buy?
Music lovers who prefer special headphones with its own desing, may be very pleased with Klipsch Reference R5 Neckband.
We have reviewed the Klipsch Reference R5 Neckband, which becomes exclusive Bluetooth Headphone with its design.
There are different kinds of Wireless headphones in the market. On-Ear Headphones, In-Ear Headphones, and Behind-The-Neck Headphones like Klipsch Reference which we will review in details right now. As you know, there are models such as hook shape headphones which designed for sportsman too. Of course all of these designs may not please everyone. Some of us finds On-Ear Headphones more comfortable or prefers In-Ear Headphones. This model can be classified in In-Ear Headphone category but it discerned with having a neck joint. We have the R5 Neckband model of Klipsch Reference. Looking very qualified with its own design, R5 Neckband has very great patterns. R5 Neckband takes attention with its handy crafted leather material on neck band, in this perspective this model very pleases the customers who prefer specially designed headphones.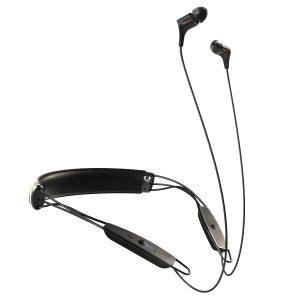 Prosperous Performance
Using R5 Neckband is really practical. The Headphone which can be paired on Bluetooth easily, have sound buttons on the right of the device. As well as, listening music you can always make phone calls with this headphone. We are very pleased with the headphone calling quality. R5 Neckband's microphone designed specially; with this features it provides great sound quality at outdoor usage. By the way, here is an important detail, there is a vibrated notification field on the headphone thus you will never miss important calls anymore. Talking about phone calls, you may wonder about the compatibility of the headphone and devices' OS. You can use Klipsch Reference R5 Neckband, on your Android or IOS devices and make phone calls with the headphone. Klipsch Reference R5 Neckband's ear pads designed specially too. For making it more comfortable, Klipsch secured patent for oval silicone pads. These pads not only decreases the ear aches in longer experiences but also achieves great success on sound isolation aspect. We can easily tell that, R5 is really good at sound performance.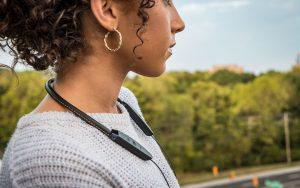 However R5 Neckband has apTX and AAC support, it has no apTX HD technology in it. Also there is no NFC support in the Headphone for practical pairing. As final words, the headphone can provide 8 hour battery life too.