https://www.youtube.com/watch?v=SxtNkDTtiF0
Who should buy it?
Users who prefers to buy a Smart Watch, coming with both good looking and handy design besides being an Android user, may prefer Samsung Gear Sport. So, what about the Gear Sport's price? You can find a brand new Gear Sport with approximately $230 price tag, on the market.
We have worn and tested Samsung Gear Sport which was introduced at IFA 2017. Here is our review recital.
Samsung has really increased its chance of preferability on Smart Watches market, especially by adding IOS support to its' Smart Watches and optimizing Samsung Smart Watches to all of the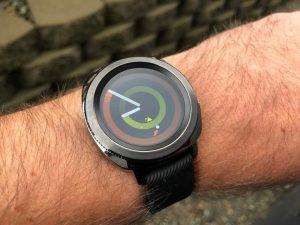 Android ecosystem. In addition to these innovations, improvising these devices on both design and technical manners made a great contribution, as well. Samsung has gained a large amount of users, thanks to the Gear S3 Frontier and Classic models especially, introduced newer models to the Smart Watch market, at IFA 2017. Besides Samsung Gear Sport, Samsung introduced Gear Fit Pro 2 and IconX 2018 in ear headphones, with these products, we can simply say that Samsung is purposing to obtain sportive users.
We will also, review Gear Fit 2 Pro and IconX 2018 when we get them. But today, our topic is Samsung Gear Sport.
Sportive Design
Although, Samsung Gear Sport looks like a little bit updated version of Samsung Gear S2, using different features such as offline Spotify support and water resistance field to 50 meters under the water makes Gear Sport an exclusive Smart Watch for athletes. However, Gear Sport resembles
the previous model Gear S2's design characteristics, thus it becomes admirable model for users who finds Gear S3 Frontier and Classic's masculine outlines a bit antipathetic design. However, it is resembling Gear S2, it has case made from metallic materials. Of course, bezel on the dial plate of Gear Sport made it from these materials too.
As we get used from previous models, Samsung Gear Sport which has a horizontal dial plate, has got 1.2" Super AMOLED screen. Brightness ratio and saturation levels are excellent. The screen is protected with Gorilla Glass 3, which means it has good durability against impacts.
Combining the alive screen with an amusing interface, Gear Sport is using Tizen 3.0 OS. By the way, there is a little info for you, if you don't have any experience with Gear series, you can scroll the apps with via turning the bezel to clockwise direction. This usage not only makes Gear models look cool but also makes them more practical and comfortable.
Furthermore, you can scroll the screens via a physical button on the other hand, there is another button located which helps you to display active ram storage and applications, as well. In order to use the apps on the screen, you just need to touch it on the screen.
There are plenty of applications on the interface; using more applications and different clock face types you need to pair with your phone. By the way, there are tons of themes, you may be lost while searching an appropriate theme for you!
Unfortunately, you might not be able to use S voice or you will use it for a small amount of time due to redundant optimizing problems. Another service you may not need is Samsung Pay.
Let's talk about the Spotify… Offline Spotify support is possible for Gear Sport, just like Gear S3 and Gear Fit 2. If you have a Premium Spotify account, you can keep albums or playlist on your Smart Watch. With this feature, you can listen any kind of music while you are jogging thus makes Gear Sport is a great partner for your exercises. Of course, you need a pair of Bluetooth Headphones for this.
User Friendly!
Gear Sport, is not a watch for your phone calls like Gear S3. You can see incoming calls or start a call but you need to use your phone on your phone call. If you remember, we can make phone calls directly with Gear S3.
You can see your notifications, answer them and you can reach S Health data or trace them. Actually, besides being a Smart Watch, Gear Sport is the best choice for your sport activities.
Tracing your exercise program and heartbeat with its sensors, Gear Sport is able to detect, your exercise activity type after finishing it. Gear Sport is able to categorize different kinds of sports like Walking, Jogging, Cycling, Rowing or Swimming. In addition, being a water resistant to 50 meters with durable design, Gear Sport is a really successful device for swimmers. Even there is a feature called Water Mode, which makes it possible to use Gear Sport under the water. You can control it via notification screen on your watch.
By the way, it is possible to set Gear Sport, to Always On Display mode. But of course it consumes much more energy than normal usages. Even so, we can say that it has really good battery life. We've really liked the battery life of the Gear Sport. Of course we've tested it on different situations.
For example, if you use the device without GPS and using Always On Display mode you would encounter %75 battery level, when you reach to home at 6.30 PM. By the way, you would display all the notification on your Smart Watch in this scenario. Without re-charging at night, you could use your Smart Watch until the afternoon on next day.
In this scenario, the device has the GPS online and using Always On Display mode. You would encounter %47 battery level on your Gear Sport. Also, in this scenario included with 30 min exercise, and listening music time to time.
If you set the GPS and Always On Display mode disable, you will encounter great battery life which lasts through days. On the other hand, Gear Sport comes with wireless charge pad, and it can be rechargeable almost one hour. In this way, it is so practical and easy to charging Gear Sport.

Briefly
In point of fact, Samsung Gear Sport, became successful and handy Smart Watch, thanks to the Samsung's policy which using Samsung Gear S3' achievement on the market and converting it for the users who prefers sportive designs. We've really liked Samsung Gear Sport for having simple design with Stainless Steel materials, comfortable layout, offline listening support (on Spotify), good battery life and other varies of different features. We can also tell that users who thinks to buy, this Smart Watch will like these features, as well. Considering from this aspects, users who wants to buy decent and qualified Smart Watch, could prefer this device without concern. Unfortunately, there are only two High-end Smart Watches on the market; you have to prefer Apple Watch or Samsung Gear. By the way, we can humbly say that, Gear Sport has got the upper hand, thanks to the IOS support.