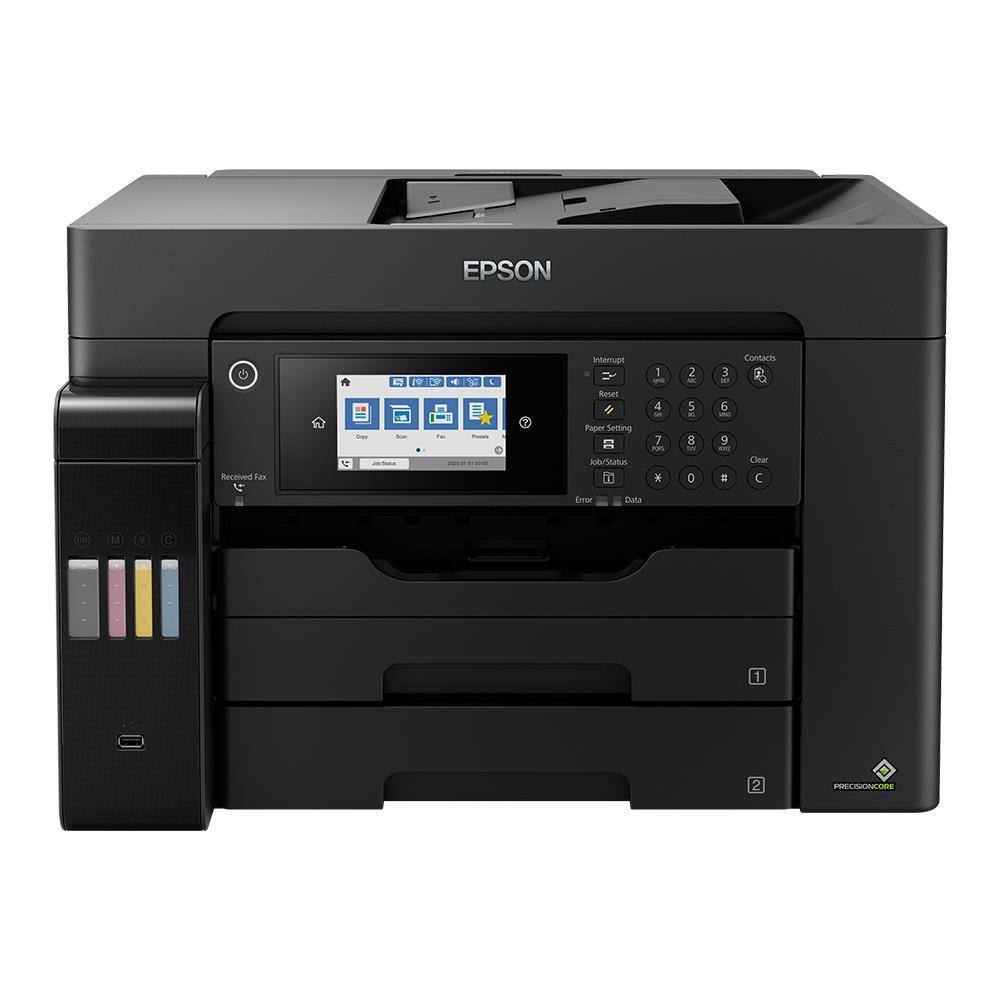 This printer comes with 3 years of ink, printing exactly 25 pages per minute. Here is the Epson EcoTank L15160 review.
For many of us, printers are devices that cause problems, jams, runs out of toner, and we sink everywhere while refilling ink, right? In fact, we sometimes find ourselves amazed at how these printers can remain so stable and not developed in the ever-moving technology world. If you think so, you probably use an old printer in your home or office.
In this review, we introduce you to a new printer. The EcoTank L15160, which Epson recently launched, is with us in this review and is here to erase the bad reputation of those old printers in mind.
Epson EcoTank L15160 3-Year Ink
First, I have to start by saying this: This device comes with 3 years of ink and prints exactly 25 pages per minute. By the way, we are talking about 25 pages per minute, regardless of color or black. This shows that it is faster than many models on the market. This device also has a sub-model, which is available as the EcoTank L15150. Its difference is that it can print 25 pages per minute in one color and 12 pages per minute in color printing.
Epson EcoTank L15160 Features
This printer, which has a low cost per page, comes with ink that will last for 3 years when you first take it out of the box. Although we made a large number of prints during the time, we use it and even made magazine readings from the prints we received from this printer last month, the cartridges are still half. I have to remind you that the tester we have, that is, a product that was sent for numerous reviews before us. In that sense, you can guess that it is used a little bit heavily.
If you are looking for a router you can read out Tp-Link Archer C2300 review: https://www.techblimp.com/2020/07/25/tp-link-archer-c2300-router-review/
Epson EcoTank L15160 Front Panel
Now when we look at the front panel of the printer, we see that there is a large screen here. This 10 cm color LCD screen has a touch surface. So, you can easily define your transaction. While there are command keys right next to the screen, you can move this panel up or down depending on where you position the printer.
You can see the double paper trays under the panel. Each of these paper trays can hold 250 sheets and by the way, let's say that this printer is also suitable for A3.
How to Refill Epson EcoTank L15160 Ink?
The printer also has a 50-sheet rear feed. When we come to the left, we see the ink tank. You will probably fill this ink tank after 3 years on average use, but let's say it for you to know refilling is done when you turn the ink bottles of this device upside down and print them. In other words, it is not possible to pour ink left and right while filling. While filling, you can check the filling rate from the front panel.
Performance
As we said, the printer, which can print in color or monochrome at 25 pages per minute, can print the first page in as little as 5.5 seconds. To print, of course, you must connect this device to the network. There is an Ethernet port for this, but of course Wi-Fi support is also available in the printer. So, you can easily include it in your network. On the other hand, you can use the Epson iPrint application to print from a tablet or phone.
Specifications
The EcoTank L15160 does not just print, it can scan, allow you to make copies and even includes a fax feature. Thus, with this device, you give a good response to the institutions that still insist on faxing in the cancellation of membership.
The print quality of the printer is good for its class. The machine, which can print at a resolution of 4800×1200 pixels, can also scan at a resolution of 2400×1200. By the way, Epson is quite assertive with the ink used in this printer. They say it is resistant to contact with liquid and prints will last for many years without fading. Of course, it takes some time to verify this.
In Brief
Yes, as a result, the Epson EcoTank L15160 is a fine printer. Yes, for some it may seem a little big. However, you can attribute this to being multi-functional and having A3 page support. We were very satisfied with the print quality and speed during the time we used it.
Who Should Buy It?
Epson EcoTank L15160, which can be used for jobs that require a lot of printing, especially when working at home is intense, will also meet the office need.