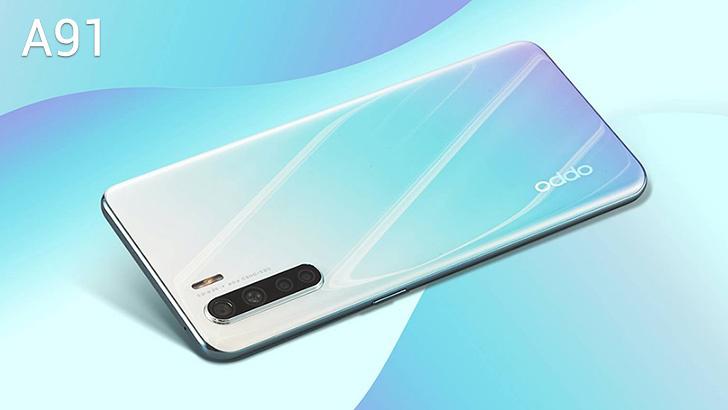 OPPO's new mid-segment smartphone OPPO A91 attracts attention with its flagship appearance, but it is confusing with its features. So why? Here is the OPPO A91 review!
Although we are more interested in the OPPO Watch now, we have not gone through OPPO's new phones, of course. The company has 2 new models presented to the middle segment, one of which is the OPPO A91, which we will look at today, and the OPPO A72 model, which we will share with you soon.
Today, we will get to know the OPPO A91 from these 2 phones with all its features. By the way, the OPPO Watch smartwatch arrived last week, we are reviewing it for now. We will convey to you in detail the impressions we will have get in the coming days.
OPPO A91 Design
OPPO A91 comes across as one of the company's new mid-range phones. Its design looks richer. OPPO A91 is a phone that creates a high-class impression with its blue body, 6.4-inch wide and high-resolution screen, and 4-camera setup on the back.
Although we have blue OPPO A9, you can also find the phone in black. Although this colored surface resembles glass material, it actually has a plastic coating. However, this is really hard to notice.
Just like the back body, the sides are plastic, and there is a power button on the right edge. On the left, we see the sound buttons and the SIM card drawer. The current model of OPPO A91 is designed with a single SIM card. There is also microSD card support here.
There are headphones in the box of the phone, which has a 3.5 mm headphone jack on the bottom edge. Let's also say that the silicone case comes out of the box. There is already a guard band on the screen. In this way, when the phone is out of the box, it comes in a very protected structure.
OPPO A91, by the way, is a very thin and light phone for its class. The thickness of the phone weighing 172 grams is 7.9 mm. Thus, I have to say that it is in a particularly good balance in the hand.
OPPO A91 Screen and Operating System
As we said, the OPPO A91's screen is 6.4 inches in size. It is really gratifying that the panel of the display is AMOLED. In this way, the screen brightness of the phone, which can show saturated colors, is also very good. The screen can reach a brightness of 430 nits, and when the ambient light sensor is activated, it can reach 590 candelas in the middle, which is an incredibly excellent value. Thus, a good screen reading can be achieved for outdoor use.
OPPO A91 Screen Resolution
The screen resolution is 1080×2400 pixels on this phone, and a wide field of view is offered thanks to the drop notch on the top and the thin bezels. Thanks to the aspect ratio of 20: 9, the screen is well suited for multimedia use. The screen protection is also at the level of Gorilla Glass 5, which makes it difficult to give harm to this beautiful screen.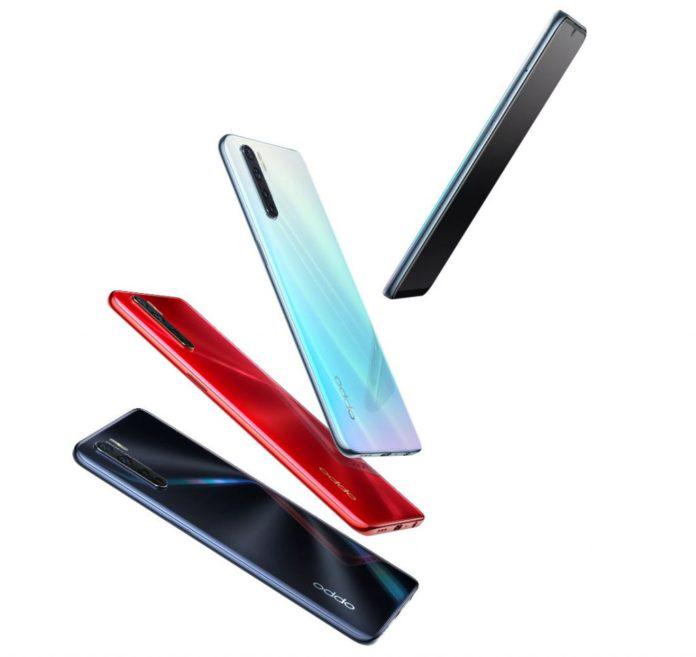 Fingerprint Sensor
By the way, while the fingerprint sensor is integrated into the screen and you can use the face recognition feature through the front camera. Both methods work very smoothly.
OPPO A91 is a phone that was introduced at the end of 2019, although it came to our country a while ago. For this reason, the operating system comes as Android 9. It doesn't get an Android update right out of the box. When you say check for updates, you get the ColorOS 6.1 version update, which is the phone's own interface. We think that the Android 10 operating system will come, and even according to OPPO's statement on this subject, OPPO A91 will have Android 10 before the end of this year.
OPPO A91 Features
We called it a member of the middle segment for OPPO A91. Well, what are the features of the phone and how are the technical staff shaped?
MediaTek Helio P70 is preferred as processor in the phone. 4 cores of this processor operating at a frequency of 2.1 GHz, the other 4 cores work at a frequency of 2.0 GHz in an efficiency-oriented manner. The RAM capacity in the phone is enormous. There is a full 8 GB of RAM in this phone and an exceptionally large storage such as 128 GB is offered as storage space. Also, let's say again that you can increase this with a microSD card.
Gaming Performance
You can get a satisfactory performance because of the processor in accordance with its class and the high RAM capacity used in the phone. Daily use performance is also very good on the phone, where you can run PUBG and Asphalt 9 derivative games very easily. OPPO A91, which stands in a good line compared to other models within its price, is also a phone that we are satisfied with its cool operation. The surface temperature of the phone is very low.
How Long Does OPPO A91 Charge Take?
OPPO A91, which performs well enough from social media usage to internet roaming, from gaming experience to multimedia usage during the time we use, also provides a good battery life with its 4025 mAh battery. You can easily take 1.5 days with a single charge. If you are someone who does not tire the phone very much, you can increase this period up to 2.5 – 3 days. In this sense, let's underline that we like the phone with its battery life.
While the battery life of the phone is long, the charging time is also noticeably short. OPPO's VOOC 3.0 charging technology is also on this phone. In this way, you can charge the phone to 50 percent within half an hour. It takes up to 1 hour and 20 minutes to fully charge the phone.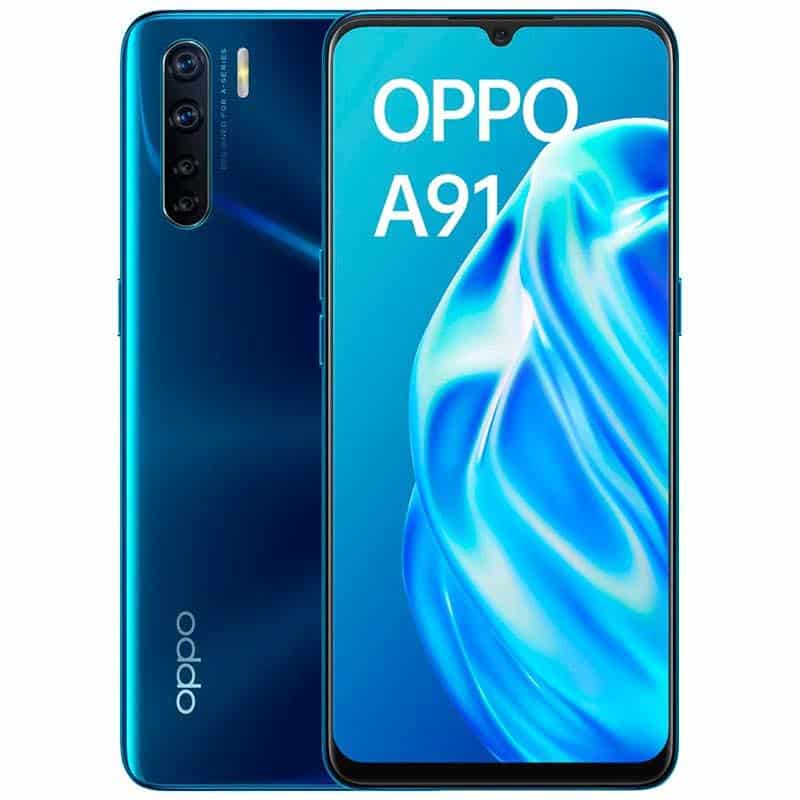 Geekbench Benchmark Results
By the way, let's not go without saying. OPPO A91's Geekbench Benchmark results are 298 points in the form of a single core and 1427 points in a multi-core. With these results, OPPO A91 achieves a competitive and balanced graphic in the table with its processor performance.
When we come to AnTuTu Benchmark, the phone, which collects 176 thousand 518 points, thus exhibits an average result with its overall performance.
If you want a cheaper phone, you can read our realme c11 review: https://www.techblimp.com/2020/09/17/realme-c11-review/
OPPO A91 Cameras
Let's get to the cameras of OPPO A91. OPPO A91 is one of the richest camera models in this class. The phone, which has a 4-camera setup on the back, stands out with its 48 MP main camera.
The phone, which can take 26 mm wide-angle photos with this main camera with f/1.8 diaphragm, includes phase detection autofocus. The second camera is 8 MP and has a lower aperture: at f/2.3 level. This camera is capable of ultra-wide-angle shots of 119 degrees.
The 3rd and 4th camera on the phone are in the form of 2 MP. One of these cameras is monochrome, the other works as a depth sensor.
OPPO A91 Night Mode
The rear cameras are technically like this. As an interface, we see the software that we are familiar with from other OPPO phones. There are many options here; Your choice is wide, from Portrait mode to Night mode, from HDR photos to facial beautification.
The phone can achieve good results in scenes with good lighting conditions, and it provides good directions with its many artificial intelligence automatic scene selection features. For example, when you get too close to an object, it can automatically switch to macro mode or it can immediately detect it in landscape shots.
You can zoom up to 5x from the menu with the phone, and you also have a digital zoom option up to 10x. It should be said that the low light features are also satisfactory, given the price. The night mode is a nice detail. But don't expect grainy photos, there are minimal grains.
OPPO A91 Front Camera Features
When we come to the front camera, we see a 16 MP lens here. This camera also gives satisfactory results in photos taken during the day. The low light performance is of course lower than the rear camera. Because the aperture of this camera is f/2.0.
Finally, let's say that 4K video recording is not available on this phone. You're limited to Full HD video recording with both front and rear cameras. Although 4K is not a highly sought-after feature for this class, it is possible to say that models like realme 6 make a difference in this area.
In Brief
As a result, OPPO A91 has a flagship appearance with its design and is suitable for its class with its price. The price of OPPO A91 is $349.99. Although is like suitable for this class in terms of performance, of course it should be said that there are more remarkable models than it. One of them is realme 6. Currently, it is more affordable and offers wider options in terms of features. In this sense, we think that the arrows between the two point to realme 6, because that model has better features in many respects not only from this phone, but also from many competing models.
Of course, that doesn't mean that OPPO A91 is a bad phone. It's just a more limited model, more loyal to its class. Accordingly, we think that the price should be lowered a little more so that it can fight better with its rivals.