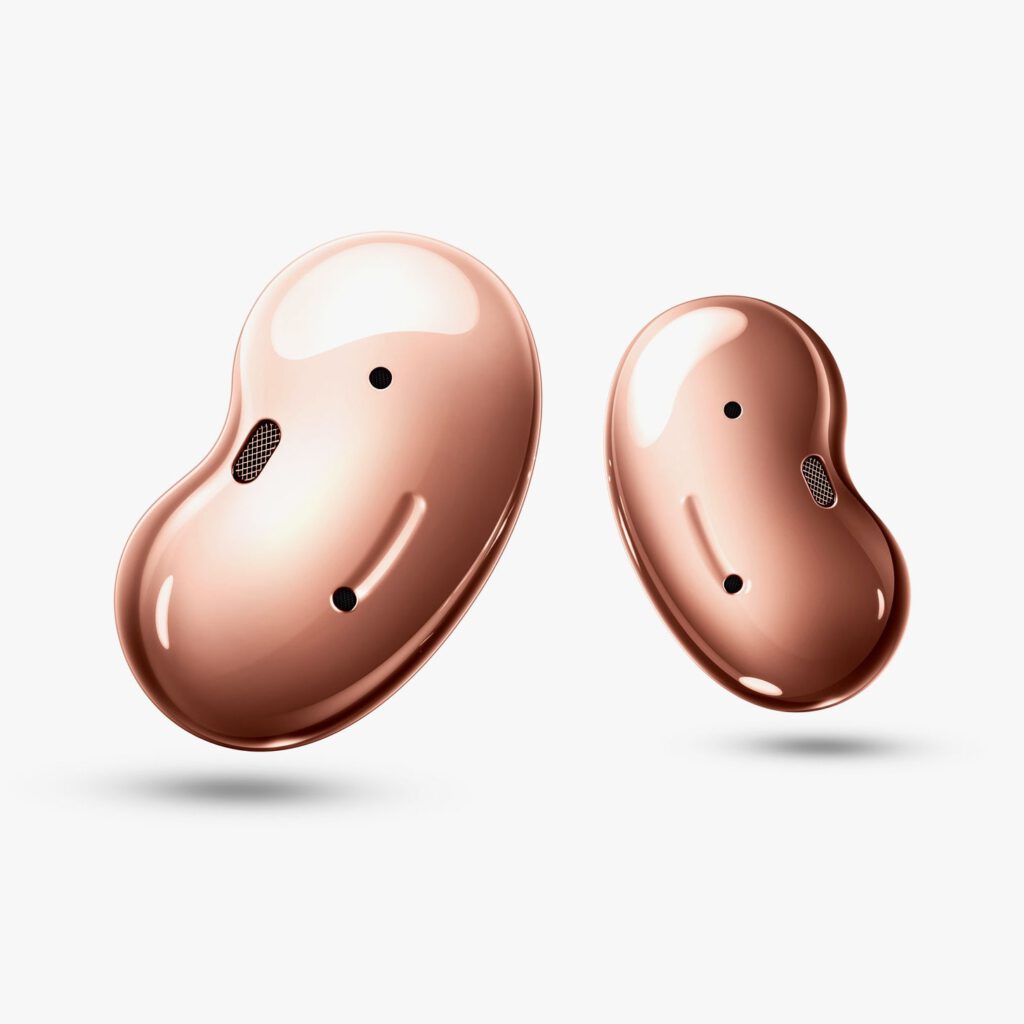 Yes, we finally have Samsung's new wireless headset called Samsung Galaxy Buds Live. We have used this headset for a while, and we will tell you our experience we have had it in this review.
First of all, I have to start by congratulating Samsung, making a radical decision and completely changing the headphone design and bringing the series into a new form and give it movement. Starting with the Galaxy Gear and evolving into Buds, they could have done very well in the adventure of wireless headphones. They could have never get involved in this job and continue with the same design. But they have made a difference and chose to change the design. By the way, Samsung had to produce 320 prototypes to decide on this design, let's say this as a note.
Galaxy Buds Live Design Features
Yes, it is obvious that this headset looks like a bean in appearance, but this is because the headset adopts both the channel type and the open design approach. As known, in previous models of Galaxy Buds, the design language we call the channel type, which is placed in the ear, was used. On the other hand, there are also headphones that use the open design language, among which we can cite Huawei's FreeBuds models. I think both earphones have their own advantages and disadvantages.
In canal type headphones, the music performance is more satisfactory because the headphones fit perfectly, while in open-designed headphones, the ear tips remains outside of the ear canal and with air circulation, phone calls could be made healthier. With Buds Live, Samsung has created this design by adding a little bit of that to the pan, and thus a headset with both channel type and open design has emerged. On the other hand, it should be emphasized that the design language is also quite original.
Weight
Of course, one of the main elements that change with the design is the center of gravity. Buds Live is lighter than its predecessor. The earbuds themselves weigh 5.5 grams, so you can forget they are in your ear. By the way, do not think that you are fooled by its design. You must make great effort to make it fall. The headphones are very firm in the ear.
We've talked a lot about the ergonomics of the design, let's say a few words about the overall look, and then move on to other features of Galaxy Buds Live.
Although Galaxy Buds Live is available with a white model, it is also available in black and the more interesting one in bronze. Especially bronze color, I have to say that it suits this headset very well.
By the way, the headset is IPX2 certified. This certification shows that Buds Live is designed to withstand sweat and splashes. You can use it in sports, but it is not protected to enter the pool or shower.
Galaxy Buds Live Features
The Galaxy Buds Live is special in its design, but not a simple wireless headset with its features. While there are 12 mm AKG speakers inside, we see that there are also bass channels here. Again, it is possible to see that the air ducts we have just mentioned are located here to increase the amount of sound.
There are 3 microphones on the headset. Two of them are located on the upper and lower edges outside the headphones. One is also inside, with the sound enhancement unit. Of course, with so many microphones, it is not difficult to guess that there is an Active Noise Canceling feature, in the headphones. We will talk about their usage in the performance step.
Touch Controls
There are touch controls on the headphones. Once you tap it, you can play and pause the song, double-tap it to skip to the next track, answer and end calls to your phone, and switch to the previous song by tapping 3 times. You can wake up the Bixby assistant and decline calls even if you touch and hold it. In the meantime, since the surface of the headset is very narrow in terms of structure, you can sometimes accidentally activate these functions while placing the headphones in your ear, putting them on and taking them off. For this reason, there is an option to turn off these controls on the application.
You can connect Galaxy Buds Live to your phone through the Samsung Galaxy Wearable application, just like the Samsung headsets we have reviewed before. There are various instructions on the application, and you can customize the headset in this way. There are sound profiles you can prepare on the equalizer as normal, bass boost, soft, dynamic, clear, and treble boost. If you play games frequently on your phone, you can also open the game mode from the Labs section.
By the way, Buds Live can be used with iOS devices as well as on the Android side. However, some features like Spotify and Bixby access are limited to Android only.
Galaxy Buds Live Noise Canceling Performance
The technology that Samsung packs into such a small headphone is quite impressive. Each of the headphones has a group of sensors such as sound pickup unit, bass-channel speaker, accelerometer, Hall Sensor, Proximity Sensor, as well as ANC feature. Let's start the performance step by evaluating this feature first.
The Active Noise Canceling feature, which is exceedingly difficult to achieve in such small earphones, is made more difficult by the absence of silicone tips. For this reason, Samsung has developed a special ANC for this type of open design headset, which can greatly reduce the low frequency background noise below 700Hz that occurs in public transport such as trains and buses. While this looks fine on paper, it obviously did not make a big difference in practice when we used the headset in public transport such as the BRT. At least that's our experience.
However, we can say that at lower sound levels, office noise or when you are walking on the street, you are greatly eliminated from environmental noise. Of course, this will depend entirely on how long the headset fits in your ear, as with most other wireless headphones, and the volume of the song you are listening to.
Galaxy Buds Live Sound Quality
When it comes to the sound quality of the headphones, we can say that we like it very well in general. The headset has Bluetooth 5 support, but has Samsung's proprietary Scalable Codec, which prevents audio interruption to ensure reliable audio streaming in the headset. This Codec is used to change the bitrate according to the strength of the Bluetooth connection.
So, when the wireless connection is weak, this Codec comes into play and automatically encodes the audio information with a higher compression rate, allowing the headphones to receive uninterrupted data. This prevents signal loss when you move away from the sound source. So, you can push the range.
If you are looking for a cheaper headphone, you can read our Anker Soundcore Life q10 review: https://www.techblimp.com/2020/08/07/anker-soundcore-life-q10-review/
Music Performance
Buds Live, which performs well with its general music experience, has been a good accompanist for us in many music we listened to, from Electronic music to Pop, from Rock to Instrumental music. Although you cannot find any special equalizer settings on the application, as we said, you can choose the one that suits you among 6 different modes. If you are going to use this headset with a new generation Samsung phone, it is possible to create a completely personalized fine-tuning sound profile with the Adapt Sound feature on the phone.
In the meantime, let's talk about the fact that you can prioritize audio recording while recording video with the Galaxy Note 20 Ultra, which we have while reviewing Galaxy Buds Live. During the video recording, you can either record the voice on the phone or you can take it directly from Buds Live.
As for the call quality of the headset, we found it satisfactory. In the scenarios we use while walking on the street or while traveling on public transport, the voice of the other party reaches our ears very well, and your voice goes smoothly to the other side. However, let us also convey that in our interviews, the other party sometimes says that the voice is deep.
Galaxy Buds Live Battery Life
Galaxy Buds Live has a long battery life. The battery on the earphones is 85 mAh, while the charging box has a 270 mAh battery. With a single charge, you can get up to 6 hours of uninterrupted music performance with this headset. With the charging box, your total usage can reach 21 hours. This is quite enough time. In addition, an important advantage is the short charging time. With a quick 5-minute charge, you can get about 1 hour of musical performance. You can use the USB cable included in the box to charge it, or you can charge it with the wireless reverse charging feature of the phones.
In Brief
As a result, it is quite possible to say that the Galaxy Buds Live is a beautiful headset thanks to Samsung's bold design change move. We found it very ergonomic and comfortable with its design. Buds Live, which will be a good screen especially for Samsung smartphones, provides full compatibility with a number of features such as Scalable Decoder. The headphone, which can respond well to the music needs, is also extremely satisfactory.
Who Should Buy It?
Those looking for innovative design and a good wireless headset should buy Galaxy Buds Live.