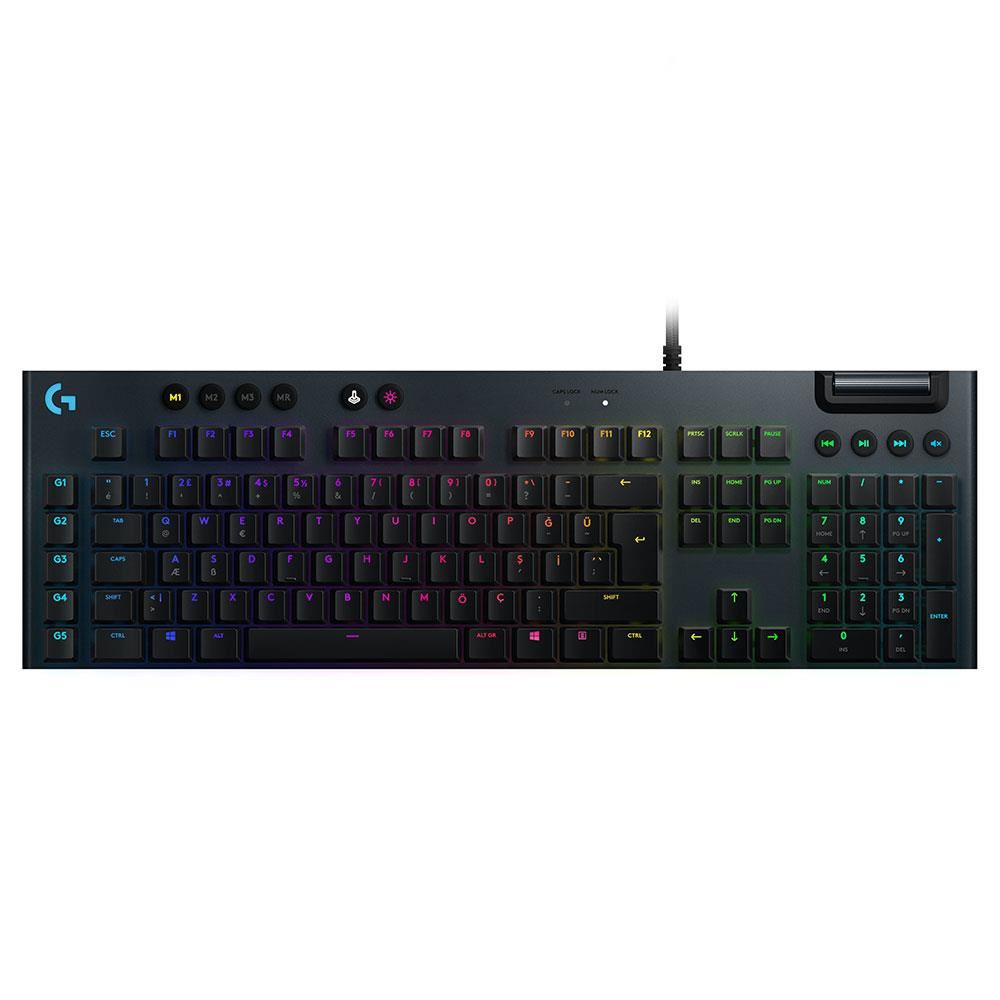 Today, we are going to review Logitech G815 LIGHTSYNC for you and talk about our experience. Keyboards are a big part of our business. We spend almost all of our workdays with them and we always experience our writings and games through them. Just like for us, a good keyboard is necessary for gamers, and luckily there are plenty of quality models available for every budget. The G815, which replaces Logitech's highly acclaimed G810, is a model that will win your heart at first sight.
Design
Let's start by confessing right away, the G815 and its wireless version, the G915, are probably the most beautiful keyboards I've seen with the naked eye. The keyboard, which is only 22mm thick, looks extremely stylish and high quality with its brushed 5052 Aluminum alloy body. The low-profile GL switches used in this model also complement this image and give the keyboard an extremely sharp image, as if laser cut from top to bottom.
Logitech G815 LIGHTSYNC Keyboard Dimensions
Despite its slim appearance, the G815 is not a small keyboard. It is 475mm in size, and there is enough space left for five dedicated mode keys on the left, function keys on the top, multimedia keys on the upper right and a cylinder where you can adjust the volume. It should be noted that this cylinder is also made of aluminum, operates on an endless tour basis, and gives an extremely high-quality feel. Also, when you see the mod keys, if you are afraid that "I will not find the place of the ESC key again", just like me, Logitech thought about this and put the five dedicated mode keys below the ESC key.
You can also read our XPG Summoner review if you want a cheaper keyboard. https://www.techblimp.com/2020/09/04/xpg-summoner-review/
Logitech G815 LIGHTSYNC Features
Logitech offers three different switch options in this model. Our test product has GL Linear switches that are extremely quiet and efficient both when typing and playing games. If you wish, you can choose Tactile or Clicky versions. I think these switches need to be developed a little more. Although they are firmly in place, they are a bit more mobile since they are only supported at two points. This makes you feel like your finger is slipping while writing.
Keyboard Lights
RGB switches with 16.8 million colors each are used in the G815. These switches can be individually illuminated over the increasingly stable G HUB, and the options are unlimited in this regard. It is possible to save three different profiles you defined in G HUB to the keyboard. Moreover, you can change the lighting level on the keyboard without using G HUB, or you can choose the effect you want from the lighting key + 1-7 keys.
The key you can switch to gaming mode is also located right above the keyboard. The point I did not understand was why Logitech did not illuminate the secondary characters on the keyboard. Since there is no illumination, keys like, +, =, becomes very difficult to see at night and it is up to your hand habit.
Logitech G815 LIGHTSYNC Performance
Despite all the slimness of the keyboard, Logitech managed to insert a USB 2.0 slot in the back, which is good news even without USB 3.0. You can buy it for $179.99.