Samsung Galaxy A9

Briefly
As a final result, Galaxy A9 becomes very successful devices compared to different perspectives. With its 4 individual camera, this device brought amazing innovation to mid segment devices and with its device it has upper hand against its rivals. You can buy a brand new Samsun Galaxy A9 for 687, 02 USD on the market. Though this price rate makes it more attractive comparing the rivals. However it is important to remind that, with a little budget adding to these price you may find a brand new Galaxy S9 as well. So the choice is yours.
Who should buy?
Users who wants to get multiplexed cameras on a mid-range device with flexible camera angels, may prefer Samsung Galaxy A9 (2018) as a new smart phone.
The first smart phone with 4 cameras on the world; Galaxy A9. It's on the stage ladies and gentlemen.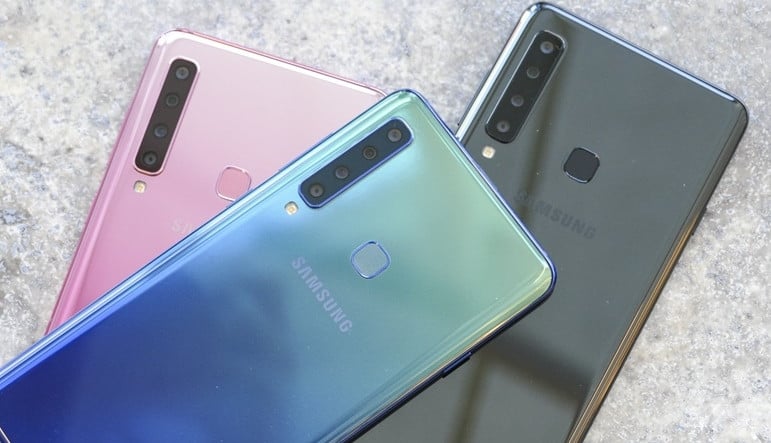 At first, Samsung Galaxy A9 was introduced in September and it made an overwhelming impression on the market furthermore it became the first smart phone with 4 individual cameras. With its 4 cameras on its own, it had a chance to separate from other devices on its segment. However, what features come with in details? We will look closely in our review.
Desing aspects of Samsung Galaxy A9 (2018)
Let's start our review with Samsung Galaxy A9's design aspects as always. Samsung Galaxy A9 comes with 3 different colors, Night Black, Gasoline Blue and Candy Pink. We have Gasoline Blue in our hands right now. It has really slight and thin profile. The thickness of the device is 7.8 mm and it weighs only 183 grams. The edges of the device has been curved with this design it feels slimmer while using it on your hands. The area of the camera on the back of the device is nearly 0% compared to whole itself.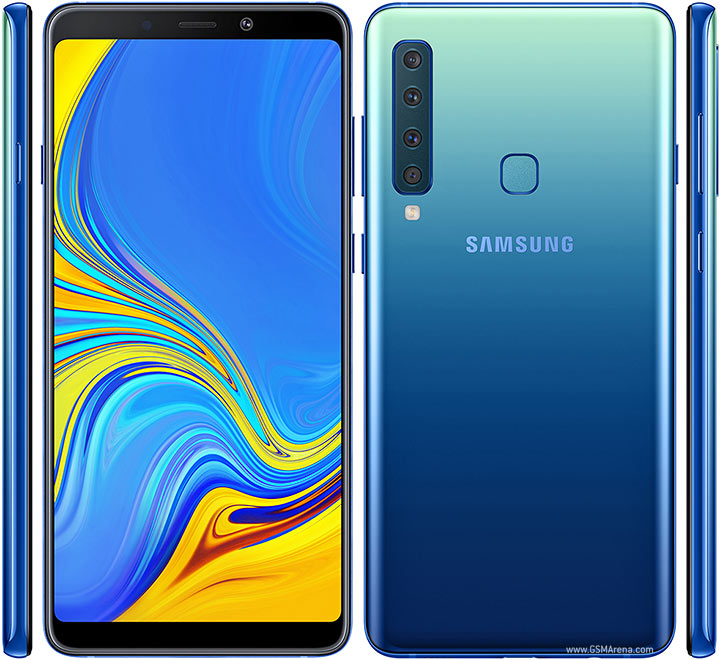 There is a perfectly working finger print scanner back surface on the device. And there is 3.5 mm headset jack underneath of the device. By the way there is a headphone in the box of the device.
On the other hand, there is also an USB-C port and speakers underneath of the device as well. At the left of the device we encounter a Bixby button. If we look at the right side of the device we'll see power and volume buttons.
The SIM and microSD card drawers has places on the upper surface of the Galaxy A9. With these drawers, Galaxy A9 allows us the use a SIM card and microSD car storage up to 512 GB capacity. But unfortunately there is no Dual-SIM version of Galaxy A9 in the USA right now.
Screen and Display Features of Samsung Galaxy A9.
Galaxy A9 has a screen with 6.3 inch sized. Underneath of this screen we face with a Super AMOLED panel as well. The edges of this device is really thin and curved just like other devices nowadays. With these features, Galaxy A9's screen to body ratio has increased to 80% percent.
The resolution of this device is 1080×2220 pixel. There is no notch on the screen of the device and it has 18.5:9 display ratio. With 393 ppi pixel density level it can not match with Galaxy S9, S9 Plus and Note 9's performance levels with their QHD panels. However it looks more acceptable for a Full HD+ screen.
The brightness of this device is 466 nit level. That means you will get a good display performance under the direct sun light as well.
Technical Features and Performance of Samsung Galaxy A9
First of all, Galaxy A9 comes with Android 8.0 Operating System. Also there is a Samsung Experience UI with 9.0 version in the device. There are different kind of options under the Advanced Settings sections. Such as, one hand usage mode and Game Launcher mode for games as well.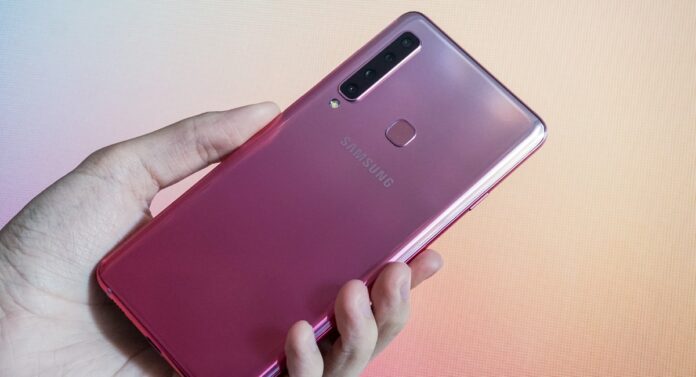 The chipset of Galaxy A9's powered with 8 cores, four of them has 2.2 GHz and others has 1.8 GHz frequency rates. Also there are some good news comes with its storage levels of this device, it has 128 GB of storage capacity level which is really large considered to other devices among the mid-segment smart phones. On the other hand there are 2 options for RAM capacity, 6 GB RAM and 8 GB RAM versions of the Samsung Galaxy A9 has a place on the market. Although there is a better version of it we can say that 6 GB RAM version of this device also achieve great works as well.
Battery capacity of Samsung Galaxy A9(2018)
The battery capacity of the device is 3800 mAh. With this battery it offers great performance of longer usages, it can lasts till almost 9.5 hours. So it is really successful time for this kind of device. That means it can last a day with normal usages. By the way it is important to note that you can capture Full HD videos with full brightness rate it lasts almost 13 hours.
On the other hand there is fast charge support with this device, you can recharge your device fully within 1 hour and 40 minutes. However there is no Wireless charge support for this device.
By the way, there are 802.11ac Wi-Fi and Bluetooth 5 support comes with Galaxy A9 as well. Including these features there is also FM Radio supports too.
4 separated CAMERAS of Samsung Galaxy A9
As we mentioned before, Samsung Galaxy A9 come with 4 different cameras on the back of the device. Also there is an individual camera on the front face of the device which has 24 MP. On the back of the device we will face with 4 different cameras. Let's introduce them respectively; there is 8 MP camera with Ultra Wide Angle(120 degrees), 10 MP camera equipped with 2X telephoto, 5 MP camera in order to adjust depth of the photo which is used for Bokeh effects and there is a Main Camera with 24 MP and f/1.7 diaphragm level.
It is really entertaining to use different scenarios quickly with these richest cameras under your command. For example, you can select Wide Angle immediately while you are capturing at AUTO mode or you can captures photos with 2x zoom levels or 1x zoom level. All of these preferences are under at your command, you can select whichever you want. By the way, of course it is possible to capture photos with Live Bokeh Affect.
The main camera of this phone prove itself very impressively and it captures photos with great success. Including with low light scenarios. However it is obvious that other cameras of this device, can not works as like main camera unfortunately they are intend to fail at this task.
Video capturing capabilities of Samsung Galaxy A9
By the way, Galaxy A9 can capture Full HD and 4K videos with 30 frames. However there is no 60 FPS support for these cameras. The other thing which doesn't have place with Galaxy A9 is, there is no Optical Image Stabilization. These are the cons of the video capturing of Samsung Galaxy A9.
As a last words, it is important to talk about the different camera modes of Galaxy A9. There are beautiful camera modes comes with camera interface of Galaxy A9 such as Panorama, Professional, Beauty Mode, Fast Motion, Ultra Slow Motion etc. The Image Intelligence mode which is listed under this category, helps you to configure the color selection of your photos depending on the scene and background.