Ttec Power Stones Trio

Briefly
Ttec Power Stones Trio really offers impressive solutions to users among the mobile charging devices. Home, office or travels it doesn't matter this impressive device not only charges your devices but also it helps to your friends or devices more than one. It makes great differences among it opponents with its Charge Station which recharges the batteries of these power banks. By the way it is important to say that Ttec Power Stones Trio has switch guard as well. On the other hand it has really elegant and impressive design aspects.
The price of Ttec Power Stones Triois about $50 USD on the market. It is really affordable for perfect device with this quality. In our opinion it pleases the users who needs a device like these.
Who should buy Ttec Power Stones Trio?
Users who wants to buy elegant and perfect portable power banks like these will be really pleased with Ttec PowerStones Trio.
Ttec, produced a portable power bank which resembles in all means as a "STONE"; let's review Power Stone Trio!
Power Banks becomes as an insurance for Smart Phones nowadays whether they have large battery or not. Seriously, it is really good to know there is a power bank in your bag or pocket sometimes. However there is a bad scenario about this, when you plug your device to your portable power bank and face with a red LED light on the power bank. It is really hearth breaking situation to be honest. Yes, of course power banks have batteries inside the case and they need to recharge time to time in order to continue its mission. However many users forget to recharge them purposely or not. I'm talking for myself,  most of the time I carry 3 or 4 portable power banks in my backpack during the day however usually they are run out of juice.  My first reaction to Ttec Power Stones Triowas was "WOW" when I saw it for the first time. I must say,  I really impressed with this portable power bank.
Portable Power Bank like a "STONE"
Recharging the Power Banks is really hard job to do for some users. Yes we don't forget to recharge our smart phones or postpone to charge them since they become our most important belongings today.  However some devices such as smart watches, portable power banks, action cameras have been forgotten or postponed to recharge due to their cable plug / unplug situations. Of course it is always possible to forget recharging. However there is a solution to make recharging more easy way, in that way Ttec did this as well.
Ttec made really good work with adding power station inside to Power Stones Trio's box. Coming with a set which includes 3 devices; two different portable power bank and a power station, Power Stones Trio really looks like a "Stone" with its design. So we wouldn't be wrong to telling that it is portable power bank "as like Stone"   .
Power Stones Trio offers solution with a back-up
Power Stones Trio has rough surface like a stone and we got gray model of this device. Coming with a back-up device, Power Stones Trio offers users two different portable power bank which allows users charge and discharge at the same time. That means you plug the discharged power bank to the power station and take the charged one for yourself. In this way, recharge process becomes very easy to users. They can carry the charged power bank whenever they want. By the way it is important to say that, it has beautiful view with its LED lighting while recharge process.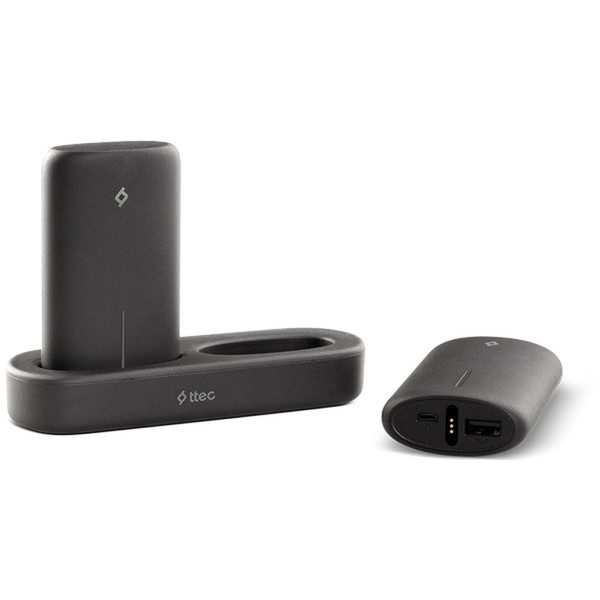 You can recharge your batteries with maximum 2.4 A energy on the power station and each battery has 5000 mAh capacity. That means you can recharge smart phones of today about 1.5 or 2 times which is an acceptable solution for a system has a back-up unit. If you are going for a long trip or need more power for a short time being, you can carry both of the portable power banks if you want which is more capable than your needs.
By the way if you buy Ttec's Trio charge cable like ours, it is possible to recharge three different devices with this cable by reason of having 3 different outputs on one cable (Type-C,Lightning and Micro USB). Of course these type cables becomes life savers sometimes as you thought. It would be great to see this cable in the box, however it is sold separately. There is only a standard micro USB cable in the box of Ttec Power Stones Trio.