Philips 272B7 QPJEB Review…
Briefly
Even if Philips 272B7 QPJEB designed for user who spends time at office, act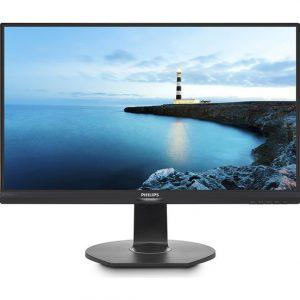 ually it catch user's fancy with large display and great resolution advantages. In this way, we think that it is an attractive model considered of different ways. Of course it's important to note it that Philips 272B7 QPJEB is not really suitable for users who enjoys playing games.
Who should buy Philips 272B7 QPJEB?
Mostly preferred by Professional Users Philips 272B7 QPJEB, is a really good model on long usages thanks to the design and hardware of the monitor.
We have reviewed Philips 272B7 which hosts features preferred by Professionals.
Launched by Philips with an impressive motto which is "Clear vision, Solid Performance", Philips 272B7 QPJEB is our guest today at the office. If you want to change your monitor at your office or looking for a monitor which comes with high resolution and ergonomic design Philips 272B7 QPJEB is a great model for you. At least it proved itself on our tests. Of course it would be your choice.
So, what Philips 272B7 QPJEB offers for customers? Let's begin our review.
Exclusive monitor for users who spends long times in front of the monitor.
 As you know, Philips 272B7 is classified as Philips B series and actually it is really ideal for users who spends long times in front of the monitor at office or home thanks to the features such as its ergonomic design and technical features.
Coming with 27" sized screen, Philips 272B7, have got 2560×1440 resolution ratio. In this way, Philips 272B7 completely appropriate for usages which requires high resolutions in addition to this it uses IPS panel technology for complete color display and wide angle display modes.
This monitor was designed to focus for mostly overhaul usages, it has got narrow frames in order to prevent anxiety while looking the monitor. 3 of the frames comes with really narrow shape.
After talking about design features of this monitor, let's talk about the ergonomic features of it. You use this monitor more ergonomically thanks to the Philips's Smart Ergo Base monitor stand. We have faced this stand with previous Philips's monitor models. With this monitor stand, you can tilt the display to both right and left sides or front and back sides, turn the monitor 90 degrees or set the height of the monitor. Actually, it is a really practical feature though.
If we look at the ports of the monitor, you can see a HDMI 1.4 port, a full sized DisplayPort 1.2 port and a VGA port. In addition to these ports, 4 USB 3.0 ports are located on the monitor as well and it comes with fast charge support.
So, Philips 272B7 QPJEB is really handy monitor looking from this perspective.
What are the advantages of Philips's 272B7 QPJEB monitor?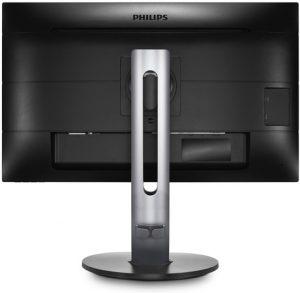 Philips 272B7 QPJEB comes with advantages of IPS panel which is really successful to display high quality of display it is also comes with generous LowBlue mode which prevents serious eye problems which could be occurred while looking at the monitor.
Thanks to the LowBlue mode technology which reduces the wavy blue light photons from the monitor, you can use your monitor with longer times safely. On the other hand, this monitor comes with another advantage which is called Flicker-free technology. Flicker-Free technology, helps to stabilize the vibrations of the screen which prevents the eye tiredness.
So, as we said before this monitor completely designed for longer usages of the monitor. However, you ought not to expect great performances for gaming purposes in contrast to gaming monitors. Because it has got 5 ms respond time due to IPS panels of monitor, in other words it is not fast as TN panel technology. But of course, it satisfies the users who enjoy playing games.
By the way, Philips 272B7 QPJEB's one of the most important feature is it can trace your actions such as looking the monitor or not during operation times.
Coming with Power Sensor technology, this monitor reduces the brightness when you are away from the keyboard and switches itself to the Power Efficiency mode. Actually it's a really important feature as well.