Briefly
Thinking about the having problems against the users and assurances, ADATA XPG EMIX H30 is liken to ASUS ROG CENTRUION. On the other hand, EMIX H30 is more comfortable, well-groomed and especially has better microphone quality, compared to its rival. Price of this beauty is $129.99 on Amazon.
We've closely examined ADATA XPG EMIX H30 the headphone which shows great sound performance. Additionally it comes with huge box contents and accessories.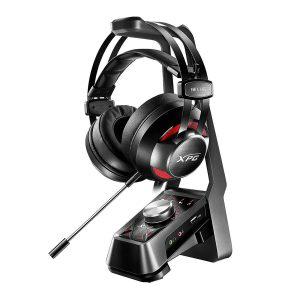 Until to this moment, we have found a chance to face against different kinds of headsets in these products, we faced really adorable headphones with a low potential on the other hand we also faced headphones which coming with great sound performance but lack of adorable design. As a matter of fact, EMIX H30 is the most coercive headphone to make a decision between these thoughts.
In the packet of the EMIX H30 we're likely to see C-Media's (CM6571) hardware which is sensitively positioned on a metal stand when we use, with huge headphone. Also, we see SOLOX F30 external sound card which is coming with virtualized 7.1 Surround sound quality thanks to the XEAR technology. The headphone has made of really sturdy materials and it fits to your head perfectly thanks to softly headband of it. EMIX H30 is really successful at long usages thanks to the skin plate headbands.
Talking about sound quality, SOLOX F30 comes with annoying design preferences. It's impossible to deactivate the amplifier which has four different kind of modes including Gaming, Cinema, Talking
and Music. Which means, even if you installed Audio Center before, you won't get flat settings and will be forced to use one of these modes. Cinema and Talking modes are the most appropriate ones among the other modes. But it is also possible to get acceptable settings for yourself after taking some time with XPG Audio Center.
The virtualization performance while playing games, H30 achieved really successful point, as a matter of fact. Especially the quality of microphone which is also able to unplug from the headphone, will gain acceptance among the fussy users.