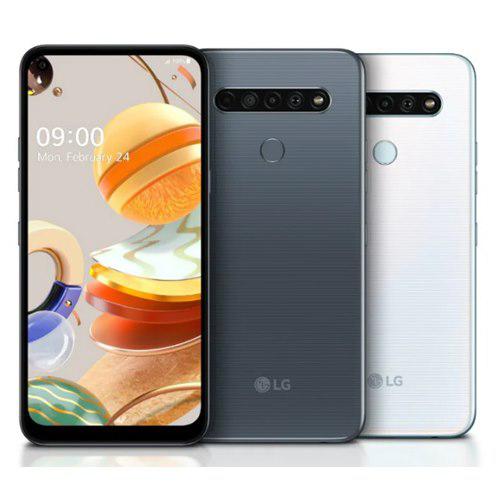 Starting with the design details first, the LG K61 model, which offers a good screen-to-body ratio with a hole-notch design at the front, has a quad-rear camera setup on the back and a fingerprint sensor just below it.
The new LG K61!
A Google Assistant key is also positioned just below the volume keys on the left. In this way, you can reach the assistant directly with the physical button. The LG K61 model has the Military Standard 810G, that is the American Military Durability Certificate. This certificate states that the phone has successfully passed tests such as high and low temperature, humidity, heat shock and impact.
In addition, LG offers a 1-year screen replacement warranty to users who purchase the K61 model in our country. So, within a year, if an accident occurs and your screen is broken, LG will change the screen of your phone for free. One of the highlights of the model is the sound performance it offers with headphones. The phone has DTS-X 3D audio support along with a 3.5 mm headphone jack. DTS-X 3D, which comes into play as soon as you put on your headphones, is both at the point where you have a 3D sound experience and with different equalizer options; It is very successful for those who like to listen to music or consume content on their phone.
Technical Features
Offering 1080p Full HD+ resolution on 6.53-inch IPS LCD screen, LG K61 model has wide viewing angle and good brightness due to IPS panel. While the phone gets its power from the MediaTek Helio P35 processor, one of the mid-range processors, in addition to this processor, 4 GB of RAM and 128 GB of storage are offered. Havimg 128 GB of storage space is fine for people who store a lot of apps, photos or videos on their phone.
It is also possible to increase internal storage with the miscroSD card slot. In addition to the main camera, which offers a 48 MP F/1.8 aperture on the back of the device, there is an 8 MP ultra-wide angle, 2 MP macro and 5 MP depth sensor. Artificial intelligence supported camera automatically identifies many different scenarios such as people, pets, food and scenery and improves the picture you take. In addition, in the low light point, both the f/1.8 aperture value and the Four Cell Technology increase the brightness by reducing the noise in the photo. On the front of the device is a 16 MP selfie camera with software portrait mode. When we look at the battery capacity of the phone, we can say that with a capacity of 4000 mAh, the phone can take a busy day very easily. LG K61 is on sale in all operator stores.