Price Performance champion Xiaomi Pocophone F1 model new Xiaomi Pocophone F2 appeared. Here are the first details of the model;
Introducing the new Armoured Edition version of the F1 model with 6 GB RAM + 128 GB of storage, the company is now on the agenda with Xiaomi Pocophone F2. On the Geekbench, the Xiaomi Pocophone F2 gets its power from the Snapdragon 845 processor. The specified model does not exceed the Snapdragon 855 due to cost; it supports 845 with 6 GB of RAM. The model, which is likely to come out with 8 GB of RAM and above, is 2,321 points from the single core with this combination and 7,564 points from the kernel. The smart phone, which is seen as the operating system Android 9.0 Pie, will bring the main difference in other areas. Here is especially better screen and the name of the camera is passing. The official introduction is said to be 2019 in the first quarter.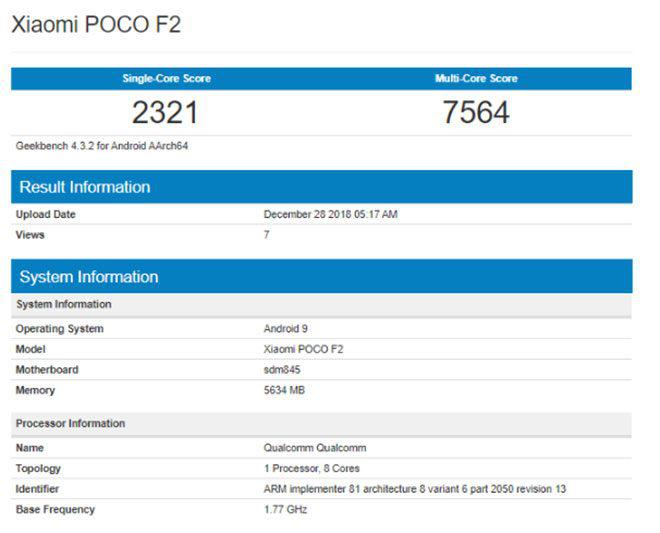 The Xiaomi Pocophone F1 Has the Following Details
The phone is built on a 6.18 inch size 500 nit brightness display. In Full HD + resolution, this screen describes the 18:9 aspect ratios and is protected with Gorilla Glass. The Model offers three different versions with 6 GB RAM/64 GB, 6 GB RAM/128 GB, 8 GB RAM/256 GB. With a full 4,000 mAh capacity, the model comes with Quick Charge 4.0 + Quick Charge Support, even without wireless charging. The phone carries a 12-megapixel F 1.8 + 5 megapixel (for depth) dual camera installation. In front of the device is a 20-megapixel F 2.0 camera.