The iPhone settings have a very useful section that gives you detailed information about your device's storage space. With this section, it is possible to access iPhone storage information details and manage the storage space.
IPhone models unfortunately do not offer MicroSD card support to their users. Although Apple will no longer produce low storage devices such as 16GB, users who do not want to allocate budgets to cloud services should use the current storage space carefully. The ability to view detailed storage information on iPhones with high storage is often informing users that applications are required or unnecessary. You can also follow the steps below if you want to know what apps are in your iPhone.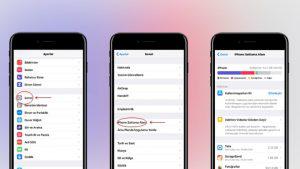 How to Do?
First of all, you need to open the "Settings" app for your device. Then you will download the page down and click the "General" option. You can now view how much space the apps on your device are using by clicking on "iPhone Storage" from the screen that you've finally come across. You can increase the storage space of your device by taking into consideration your suggestions. For example, you can delete unused apps with a single click, or review your downloaded videos to see if you want to delete them. Or, you can browse apps one by one by downloading them down, and if you wish, you could delete the data that each app uses.