The expected news for Samsung Galaxy A8s, which has not fallen from the agenda, emerged. We have a date on the phone.
The highly anticipated Samsung Galaxy A8s will be launched on October 10th, as officially announced. Huawei Nova 4 will be introduced on October 17 models, the screen is ready to make a difference with the integrated front camera. The Samsung Galaxy A8s, which is the first model in this particular market, comes with this display that will produce the China-based BOE Company. The model, which will dilute the frames with the display hole without a notch/sled, is finally appearing in the picture. The Samsung Galaxy S10 family also will have the integrated fingerprint sensor.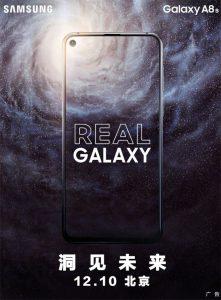 Samsung Galaxy A8s Technical Details
The phone that receives its power from the Snapdragon 710 processor is built on 6 GB of RAM. 128 GB Internal Storage The model that increases with MicroSD comes out of the box with Android 9.0 Pie. Unlike previous information, 3,000 mah, 3,400 mah batteries is the device, 159.11 x 74.88 x 7.38 mm size. The Samsung Galaxy A8s, which will be behind the fingerprint sensor, draws a lot of attention to the intermediate level. Behind the phone there is a triple camera system like Galaxy A7. New arrivals include a 24 megapixels + 10 megapixel + 5 megapixel installation. The phone, which is in front of the 24 megapixel camera, seems ambitious about imaging.