WhatsApp continues to test its new features for IOS users. With the development today, WhatsApp has launched its new design for IOS group calls as a beta. Here are the details!
WhatsApp is testing the New Design for IOS Group Calls!
The popular messaging platform is testing the new user interface for group video conversation with the IOS beta 2.18.110.1 version. In line with the information by the WA beta info group, the interface is redesigned from top to bottom.

As you can see from the above image, WhatsApp IOS groups will now have a search button in the top right corner. With this call button you can easily start a group-shaped video chat with your friends.
However, we have to say that you will be able to talk in groups with friends who have just registered with your contacts.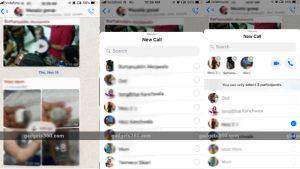 This innovation has not yet been made an official statement about when to use it for Android users. For now, you can follow the steps we have explained below to get this feature before anyone else, for IOS users enrolling in the beta program only.
How Do I Join WhatsApp IOS Public Beta Tests?
After downloading the Test Flight app from the app Store, click here to go through beta tests. After clicking on the link, click "Start Testing" from the screen that appears. Just after you click Start Test, you will reach Test Flight from this page.
Accept the terms and conditions of participation in beta tests after they are routed to the application. When you've done all this, the only remaining action is to download the Beta version of WhatsApp from the Test Flight app you downloaded from the app Store. That way, you'll be able to experience the latest innovations before anyone else.
As an important reminder: Some crashes and errors may occur in the Beta version of the application. So it will be healthier to use the stable version.