South Korea based technology giant Samsung is preparing to bring new features for Samsung Galaxy S9 and Galaxy Note 9 models. Here are the details!
Android operating system has a good storage feature since 2015 (Marshmallow). Thanks to that feature people can combine the storage of their devices with the Micro SD card in their internal unit. In other words, this feature, making two storage units a single storage space, is not used by Samsung on Galaxy models. However; it seem like that feature will change with Android Pie. It is told that Android Pie updating for Galaxy S9 and Galaxy Note 9 models will also bring the storage feature. The feature discovered in Note 9 firmware field, works as problematic for now. But it is indicated that the last updating will be unproblematic.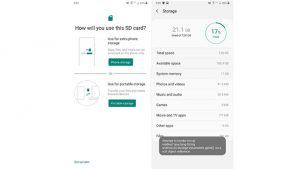 When Samsung Galaxy S9 and Galaxy Note 9 Owners will pass to the Android Pie?
As officially announced, Note 9, S9 and S9 + owners are starting to pass the Android Pie version in January 2019. It is expected that at the end of the month, the publicly available version will be launched by the owners of the phones. The Android Pie, which is said to be built on the more simple One-UI interface structure introduced in place of the Samsung Experience, brings many significant changes.
It Might Draw Your Attention
The company's model with four behind camera Galaxy A9