WhatsApp Android is going on to test new features for its users. Together with offered WhatsApp Android Beta feature, ''Answer as privately'' feature for group conversations is added too.
Answering as Privately Feature is Coming for WhatsApp Android!
According to the knowledge by WABetalnfo known as its leaks, Whatsapp is preparing to offer ''Answer as privately'' feature for the conversations in group with its 2.18.335 version.
That feature is just for the users who are registered in Beta program but, it will come out for all Android users soon.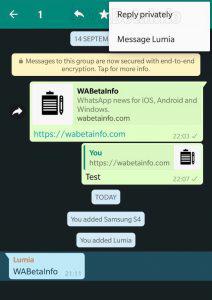 We must indicate that it is very simple to use that feature. Getting ready to offer such a useful feature for group conversations the popular messaging platform, as you can guess from its name will make it possible to answer the messages privately coming from the group conversation.
All you have to do is choose ''Answer as privately'' option by clicking the coming message. Then, a private conversation page will be opened automatically for your private conversation as you can see below.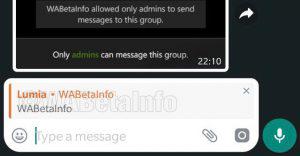 For now, that feature is available for users who are registered in WhatsApp Android Beta. If you also want to be informed innovations about WhatsApp, you can register in Beta program.
As a reminder, there might be some crash or problems on the app's Beta version, for this reason it will be better to use stable version.