Instagram video call feature was submitted in last months. An updating has come to that feature which enables you to have video call on Instagram without needing any other app. Here are details!
Instagram Video Call Feature is increased to the 6 people!
Instagram video call feature that has been talked since the beginning of that year was offered to be used in last June.
The feature already enabling you to talk with 4 people at the same time has enlarged its border since today. From now on you can talk with 6 people at the same time thanks to new updating.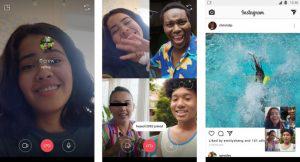 That speciality taking place in the most commonly used social platform was quite liked by users. Besides, you can surf on the app on your group talking becoming more fun with increasing to the 6 people.
On the other hand, Apple has carried video call experience to the other dimension. According to its recently announcement, it will offer its users to talk with 32 people at the same time on FaceTime with last updating. We should indicate that feature coming with İOS 12 has not activated yet.