Aiming to produce special devices for working areas with making a stride in recently, Dell included one other appealing monitor with UltraSharp U4919DW to the monitor family. The most remarkable point of the monitor is its huge screen.
Apart from screen size there is huge difference between this monitor and opponents about dissolubility. Other ultrawide monitors having 32:9 screen rate have just 1080p vertical dissolubility. That's way a large but short interface is offered.
What Does Dell UltraSharp U4919DW Offer with Its Features?
Providing 49 inch size huge panel, 5120 x 1440 pixel dissolubility and 109 pixels and %99 sRGB supports per inch the Dell UltraSharp U4919DW is also aiming to the best screen experience.
You can display view coming from two different sources on that huge IPS screen at the same time (For instance two PC). Since it is a work-oriented monitor, it will be definitely liked by gamers with its 5 ms renewal and 60 Hz refresh rate features.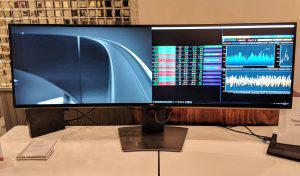 Like other exposed for sale higher order monitors it has similarly HDMI / USB-C and UltraSharp U4919DW including Display Port access, keyboard, mouse and KDM port allowing for screen connection.
When we consider that monitor will be used in some fields like finance, graphic design, data analysis etc. having huge KDM port is a big advantage.
Providing 1000:1 contrast rate and 350 nit brightness Dell UltraSharp U4919DW has high price tag as you can guess. Those who want to have that monitor have to pay around 1700 dollar.