Apple was released its new operating system iOS 12 just 5 days after introducing new iPhone models. Apple, starting a testing process for iOS 12.1 after a bit while releasing this version is here with iOS 12.0.1
Released 3 weeks after iOS 12 which is having lots of innovation, with iOS 12.0.1 problems aggrieved users are going to be solved. Foremost among these, Wi-Fi and charging problems are in.
iOS 12.0.1 was released! Here it is innovations!
Some of the iPhone Xs devices have charging a problem when lightning is cabled on updating notes and it is indicated that Wi-Fi problem causing to connect 2.4 GHz network instead of 5 GHz network is resolved.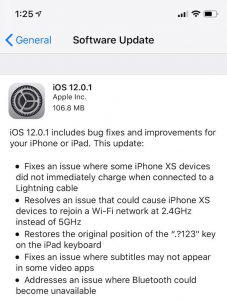 While some problems on iPad keyboard about ''.?123'' buttons are solved, other ones causing not to show subtitles on some video apps and blocking Bluetooth using is going to disappear with new iOS version.
For which devices iOS 12.0.1 is offered?
Apple devices having iOS 12.0.1 updating are like that;
– iPad Air
– iPad Air 2
– iPad Pro
– iPad 9.7
– iPad mini 2
– iPad mini 3
– iPad mini 4
– iPod touch 6th
– iPhone 5s
– iPhone SE
– iPhone 6/6 Plus
– iPhone 6s/6s Plus
– iPhone 7/7 Plus
– iPhone 8/8 Plus
– iPhone X