iOS 12 updating was published for Apple brand iPhone and iPad models. That innovations are waiting for the users with last operating system of the company? We gathered the things that you should know about iOS 12.
Features and Innovations of IOS 12
Apple doesn't serve big innovation even with new version. The company directing software team to solve the problems about IOS 11 is aiming a decisive IOS experience like in old IOS versions. New operating system is delivering double time better performance. The new version which is opening the app double time faster has such an assertive position. It is seen that there are extra working for increased reality experiences in new versions.
Apple ARKİT 2.0 is for sure has an important role on that. New searching skills for photograph feature are committing simplicity for users on new version. The feature offering searching suggestion just when you start writing, helps you to find the photos in some categories like, place, category, person, activity etc. Machine learning indexing your photos will have big responsibility.
One of the new features is measure.
That feature can determine and measure the objects. You won't have to use extra third party app with measure. Do not disturb feature was also developed and it provides you not to be interrupted at nights. It is provided to be whole dark for screen not to be interrupted with notifications and distracted by lights of phones. Shortly, Always-On Screen feature is finally here. Grouping feature waited for a long time for notifications is finally coming with IOS 12. Users can control how much notification to take. They can also make an adjustment easily for notifications on lock screen and notification centre.
Weekly activity summary under the Screen Time is also a kind of digital health feature. You can follow how much time you spend on your phone or iPad and also arrange application limits and application usage time. There are important features for Animoji features as well. There will be a Memoji features too. For new Animoji faces which are Goast, Koala, Tiger, T-Rex are going to meet users with that updating. Additively, language detection innovation for Memoji and Animoji is coming.
There are big innovations for FaceTime too. It will be possible meeting as voiced and video call with 32 people at the same time with Group FaceTime. When calling person's picture gets bigger others' will be smaller on that screen. It also makes smaller ones bigger when you click them.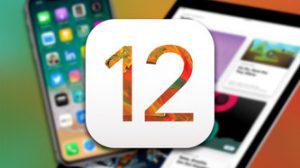 Which Devices can Support IOS 12?
iPad Air
iPad Air 2
iPad Pro
iPad 9.7
iPad mini 2
iPad mini 3
iPad mini 4
iPod touch 6th
iPhone 5s
iPhone SE
iPhone 6/6 Plus
iPhone 6s/6s Plus
iPhone 7/7 Plus
iPhone 8/8 Plus
iPhone X